Men in the News
27th January 1950
Page 34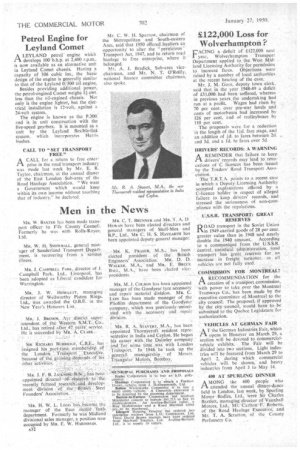 Page 34, 27th January 1950 —
Men in the News
Close
Keywords :
MR. W. BAXTER has been made transport officer to Fife County Couneii. Formerly he was with Rolls-Royce, Ltd.
MR. W. H. SNOWBALL, general manager of Sunderland, Transport Department, is recovering from a serious illness.
MR. J. CAMPBELL PARK, director of J. Campbell Park, Ltd,, Liverpool, has been adopted us Liberal candidate for Warrington.
MR. J. W. Howt_awr, managinp. director of WellwOrthy Piston Rings. Ltd., • Was awarded the O.B.E. in the New Year's Honours List, • MR. J. BROWN, Ayr.. district -.super: intendent of the Western S.M.T., Co., Ltd.; has retired after 47 years' He k succeeded by MR. A. CLARK.
SIR RICHARD BURRIDGV, e.B.E , has resigned his part time trembershiP of the London TratisPOrt EXeciitive;
because of the grOcaiiig his Other activities: " Ma, J. F. B. beeu
appointed directa ."4:•rk•-strirelito the recently formed research and developinent 'division of theBritish Steel
Founders' AsSociation. • • • .
MR. H. W. L. Lncci:hai become tha manager of the Esso inbtbi-.quels department. Formerly he was Midland divisional sales manager, a position now occupied by MR. E. W. HARD1MA4. MR. Q. T. BauNNEs. and MR. T. A. D. HF.wats have been elected directors and general managers of Shell-Mex . and B.P., Ltd.. MR C. H: S. HAMARIli has been appointed deputy general manager.
• • MR. K. FRASER M.A has been elected president of the British Engineers' Association. MR. D. D. WALKER, M.A., and MR. F. BRUCE RAIL,. M.A., have been elected vice
presidents. •
MR. M..1, CoLsoN has been appointed manager of the Goodyear tyre accessory and repair material division. MR. C. 1:Easr has been made manager of the pliofilm department of the Goodyear company, which was praiously -associated with the accessory and:. repair : Ma. R. A. STAVER I'. M.A., has been appointed ThornYeroft resident representative in India and Ceylon. He began his career *ith, the Daimler company and for some time was With London Trani/tort. In -1946' hetook up the aenerail managership. of Messrs. Triangular Motors', Bombay.