Road Transport to be Used to Cut B.T.C. Loss ?
27th January 1950
Page 33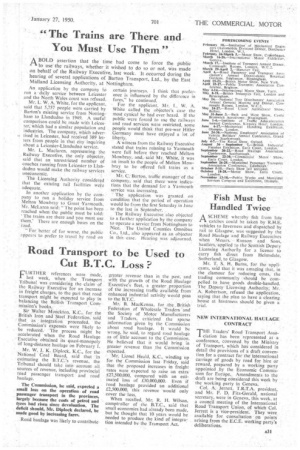 Page 33, 27th January 1950 —
Road Transport to be Used to Cut B.T.C. Loss ?
Close
FURTHER references were made, last week, when the Transport Tribunal was considering the claim of the Railway Executive for an increase in freight charges, to the part that road transport might be expected to play in balancing the British Transport Commission's books.
Sir Wafter Monckton, K.C., for the British Iron and Steel Federation, said that as integration proceeded, the Commission's expenses were likely to be reduced. The process might be accelerated when the Road Haulage Executive obtained its quasi-monopoly of long-distance haulage on February 1.
Mr. W. J. K. Diplock, K.C., for the National Coal Board, said that in estimating the B.T.C.'s revenue, the Tribunal should take intb account all sources of revenue, including provincial road passenger transport and road haulage.
The Commission, he said, expected a small loss on the operation of road passenger transport in the provinces, largely because the costs of petrol and tyres had risen since devaluation. The deficit should, Mr. Diplock declared, be made good by increasing fares.
Road haulage was likely to contribute greater revenue than in the past, and with the growth of the Road Haulage 'Executive's fleet, a greater proportion of the increasing traffic available, from enhanced industrial activity would pass to the B.T.C.
Mr. B. MacKenna. for the British Federation of Wholesale Traders and the Society of Motor Manufacturers and Traders, criticized the sparse information given by the Commission about road haulage. It would he Wrong, he said, to regard road haulage as of little account to the Commission. He believed that it would bring in greater revenue than the Commission expected.
'Mr. Lionel Heald, K.C., winding up for the Commission last Friday, said that the proposed increases in freight rates were expected to raise an extra. £27500,000, compared with an estimated loss of £30.000,000. Even if road haulage provided an additional £2,500,000, 'this revenue would only cover the-loss.
When recalled. Mr. R. H. Wilson, comptroller of the B.T.C., said that small economies had already been made, but he thought that 10 years would be needed to produce the kind a integration intended by the Transport Act.