Holdsworth Family Starts in Africa
27th January 1950
Page 32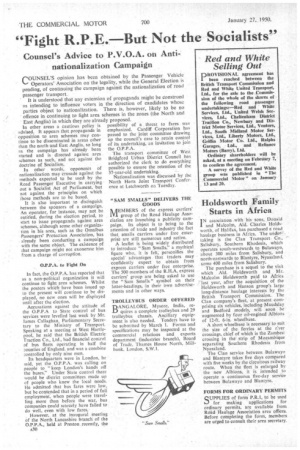 Page 32, 27th January 1950 —
Holdsworth Family Starts in Africa
Close
I N association with his sons, Donald and Malcolm, Aid, Charles. Holdsworth. of Halifax, has purchased a road haulage business in Africa. The undertaking is the Clan Transport Co.. Salisbury, Southern Rhodesia, which operates south-westwards to Bulawayo, about 300 miles from Salisbury, and north-eastwards to Blantyre, Nyasaland, some 400 miles from Salisbury.
The purchase is a sequel to the visit which Ald. Holdsworth and M. Malcolm Holdsworth paid to Africa last year, after the acquisition of the Holdsworth and Hanson group's large long-distance haulage interests by the British Transport Commission. The Clan company's fleet, at present comprising six vehicles, including Maudslay and Bedford models, will soon be augmented by four oil-engined Albions of 12-ft. 6-in. wheelbase.
A short wheelbase is necessary to suit the size of the ferries at the river crossings, chief of which is the Zambesi crossing in the strip of Mozambique separating Southern Rhodesia from Nyasaland.
The Clan service between Bulawayo and Blantyre takes five days compared with five weeks by the circuitous railway route. When the fleet is enlarged by the new Albions, it is intended to operate a continuous five-day service between Bulawayo and Blantyre.
FORMS FOR ORDINARY PERMITS
SUPPLIES of form P.R.1, to be used for making applications for ordinary permits, are available from Road Haulage Association area offices. Before completing the form, members are urged to consult their area secretary.