Passing Comments
27th January 1950
Page 30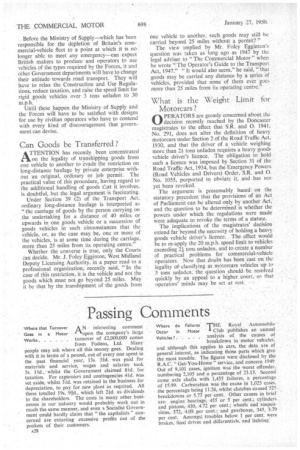 Page 31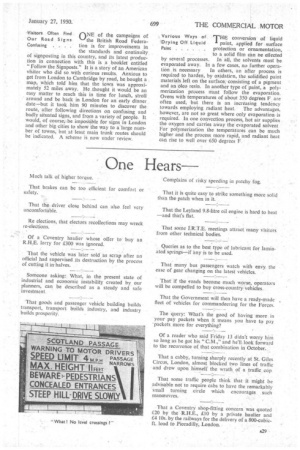 Page 30, 27th January 1950 —
Passing Comments
Close
Where that Turnover A N interesting comment Goes in a Motor "upon the company's large
Works . . . . turnover of £2,000,000 comes
from Fodens, Ltd. Many people may ask where all this money goes. Dealing with it in terms of a pound, out of every one spent in the past financial year, 13s. Rd. was paid for materials and service, wages and salaries took 5s. whilst the Government claimed 81d. for taxation. For expansion and contingencies 4/d. was set aside, whilst 31d. was retained in the business for depreciation, to pay for new plant as required. All these totalled 19s. 91d., which left 21d. as dividends to the shareholders. The costs in many other businesses in our industry would probably work out in much the same manner, and even a Socialist Government could hardly claim that "the capitalists" concerned are extorting excessive profits out of the pockets of their customers.
A28
Where do Fall u res 'THE Royal Automobile
Occur in Motor Club publishes an annual
vehicles , analysis of the causes of
breakdown in motor vehicles: and although this applies to cars, the data are of general interest, as indicating those parts which give the most trouble. The figure were disclosed by the R.A.C. " Get-You-Home " service, and concern 1949 Out of 9,101 cases, ignition was the worst offender, numbering 2,105 and a percentage of 23.13. Second came axle shafts with 1,455 failures, a percentage of 15.99. Carburation was the cause in 1,025 cases. the percentage being 11.26, whilst clutches caused 525 breakdowns or 5.77 per cent. Other causes in brief are: engine. bearings, 455 or 5 per cent.; cylinders and pistons, 430,4.72 per cent.; wheels and suspensions, 372, 4.09 per cent.; and gearboxes, 345, 3.79 per cent. Amongst troubles below 1 per cent, were brakes, final drives and differentials, and lighting:
Visitors Often Find Our Road Signs Confusing . . . . 0NE of the campaigns of the British Road Federation is for improvements in the standards and continuity of signposting in this country, and its latest production in connection with this is a booklet entitled "Follow the Signposts." It is a story of an American visitor who did so with curious results. Anxious to get from London to Cambridge by road, he bought a map, which told him that the town was approximately 52 miles away. He thought it would be an easy matter to reach this in time for lunch, stroll around and be back in London for an early dinner date—but it took him 90 minutes to discover the route, after following directions on confusing and badly situated signs, and from a variety of people, It would, of course, be impossible for signs in London and other big cities to show the way to alarge number of towns, but at least main trunk routes should be indicated. A scheme is now under review. THE conversion of liquid paint, applied for surface protection or ornamentation, to a solid film can be etlected
Various Ways of Drying Off Liquid Paint . . . .
by several processes. In all. the solvents must be evaporated away. In a few cases, no further opera tion is necessary In others, an after process is required to harden, by oxidation, the solidified paint materials left on the surface, consisting of a pigment and an oleo resin. In another type of paint, a polymerization process must follow the evaporation. Ovens with temperatures of about 350 degrees F are often used, but there is an increasing tendency towards employing radiant heat. The advantages, however, are not so great where only evaporation is required. In one convection process, hot air supplies the oxygen and carries away the evaporated solvent For polymerization the temperatures can be much higher and the process more rapid, and radiant heat can rise to well over 650 degrees F