One Hears
27th January 1950
Page 31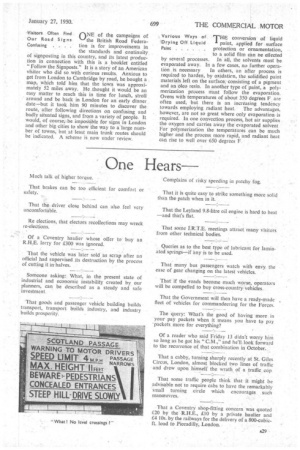 Page 31, 27th January 1950 —
One Hears
Close
Much talk of higher torque.
That brakes can be too efficient for comfort or safety.
That the driver close behind can also feel very uncomfortable.
Re elections, that electors recollections may wreck re-elections.
Of a "Coventry haulier whose offer to buy an R.H.E. lorry for £300 was ignored.
That the vehicle was later sold as scrap after an official had supervised its destruction by the process of cutting it in-halves.
Someone asking: What, in the present state of industrial and economic instability created by our planners, can be described as a steady and safe investment
That goods and passenger vehicle building builds transport, transport builds industry, and industry builds prosperity. Complains of risky speeding in patchy fog.
That it is quite easy to strike something more solid than the patch when in it.
That the Leyland 9.8-litre oil engine is hard to beat —and that's flat.
That some I.R:T.E. meetings attract many visitors from other technical bodies.
Queries as to the best type of lubricant for laminated springs—if any is to be used.
That many bus passengers watch with envy the ease of gear changing on. the latest vehicles.
• That if the roads become much worse, operators will be compelled to buy cross-country vehicles. -
That the Government will then have a ready-made fleet of vehicles for commandeering for the Forces.
The query:. What's the good of having more .M your pay packets when it means you have to pay 'packets more for everything?
Of a reader who said Friday 13 didn't worry him so long as he got his " C.M.," and he'll, look forward to the recurrence of that combination in October.
That a cabby, turning sharply recently at St. Giles Circus, London, almost blocked two lines of traffic and drew upon himself the wrath of a traffic, cop That some traffic people think that it might be advisable not to require cabs to have the remarkably small turning circle which encourages such manceuVres.
That a Coventry shop-fitting concern was quoted £20 by the R.H.E., £.10 by a private haulier and £4 10s. by the railways for the delivery of a 800-cubicft. load to Piccadilly, London.