American Load Ratings.
26th August 1915
Page 5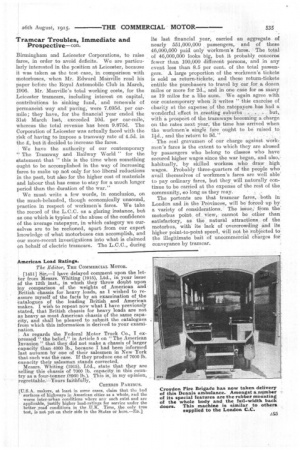 Page 5, 26th August 1915 —
American Load Ratings.
Close
The Editor, TILE COMMERCIAL MOTOR.
[1451] Sir,—I have delayed comment upon the letter from Messrs. Whiting (1915), Ltd., in your issue Of the 12th inst., in which they throw doubt upon My comparison of the weights of American and British chassis for heavy loads, as I wished to reassure myself of the facts by an examination of the Catalogues of the leading British and American makes. I wish to repeat now what I have previously stated, that British chassis for heavy loads are not as heavy as most American chassis of the same capacity, and shall be pleased to submit the catalogues from which this information is derived to your examination.
: As regards the Federal Motor Truck Co., I expressed the belief," in Article 5 on "The American Invasion" that they did not make a chassis of larger capacity than 4000 lb. because I had been informed last autumn by one Of their salesmen in New York that such was the case. If they produce one of 7000 lb. capacity their salesman stands corrected.
Messrs. Whiting (1915), Ltd., state that they are selling this chassis of 7000 lb. capacity in this country as a four-tonner (8960 lb.). This is, in my opinion, regrettable.—Yours faithfully, CETERIS P AMBITS. [U.S.A. makers, at least in some cases, claim that the had surfaces of highways in American cities as a whole, nod the worse inter-urban conditions where any such exist and are applicable' justify higher load-ratings for service under the better road conditions in the ,U.K. Time, the only true test, is not yet on their side in the States or here.—Eo.]