One Hears
26th August 1915
Page 3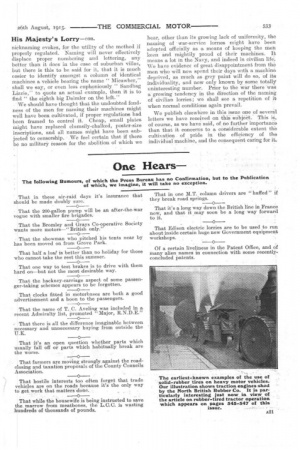 Page 3, 26th August 1915 —
One Hears
Close
The following Rumours, of which the Press Bureau has no Confirmation, but to the Publication of which, we imagine, it will take no exception.
That in these air-raid days it's insurance that should be made doubly sure.
That the 200-gallon pump will be an after-the-war vogue with smaller fire brigades.
That the Bromley and Grays 0o-operative Society wants more motors—" British only.'
That the showman who pitched his tents near by has been moved on from Grove Park.
That half a loaf is better than no holiday for those who cannot take the rest this summer.
That one way to test brakes is to drive with. them hard on—but not the most desirable way.
That the hackney-carriage aspect of some passenger-taking schemes appears to be forgotten.
That clocks fitted in motorbuses are both a good advertisement and a boon to the passengers.
That the name of T..0_ Aveling was included in a recent Admiralty list, promoted " Major, R.N.D.E."
That there is all the difference imaginable between necessary and unnecessary buying from outside the That it's an open question whether parts which usually fall off or parts which habitually break are the worse.
That farmers are moving strongly against the roadclosing and taxation proposals of the County Councils Association.
That hostile interests too often forget that trade vehicles are on the roads because it's the only way to get work that matters done.
That while the housewife is being instructed to save the marrow from meatbones, the L.O.O. is wasting hundreds of thousands of pounds. That in one M.T. column drivers are "huffed" if they break road springs.
That it's a long way down the British line in France now, and that it may soon be a long way forward to it.
That Edison electric lorries are to be used to run about inside certain huge new Government equipment workshops.
Of a certain liveliness in the Patent Office, and of many alien names in connection with some recentlyconcluded Patents.