Fthin Drivers &Mechanics TEN SHILLINGS WEEKLY is paid for the
26th August 1915
Page 20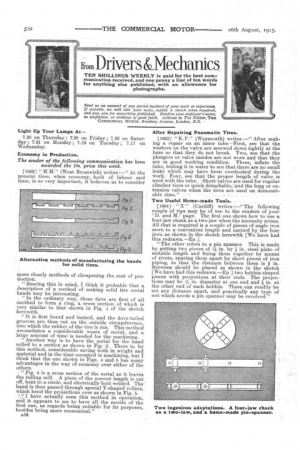 Page 20, 26th August 1915 —
Fthin Drivers &Mechanics TEN SHILLINGS WEEKLY is paid for the
Close
best communication received, and one penny a line 01 ten words for anything else published, with an allowance for photographs.
Light Up Your Lamps At — 7.30 on Thursday ; 7.28 on Friday ; 7.25 on Saturday; 7.21 on Monday ; 7.19 on Tuesday ; 7.17 on Wednesday.
Economy in Production.
The sender of the following communication has been awarded the las. prize this week. , ,
[1662] "HM." (West Bromwich) writes :—" At the present time, when economy, both of labour and time, is so very important, it behoves us to consider more closely methods of cheapening the cost of production.
"Bearing this in minds I think it probable that a description of a method of making solid tire metal bands may be interesting.
" In the ordinary way, these tires are first of all smithed to form a ring, a cross section of which is very similar to that shown in Fig. 1 of the sketch herewith. _ "It is first bored and turned and the dove-tailed grooves are then cut on the outside circumference, into which the rubber of the tire is run. This method necessitates a considerable waste of metal, and a large amount of time is needed for the machining. "Another way is to have the metal for the band rolled to a section as shown in Fig:• 3. There is, by this method, considerable saving both in weight and material and in the time occupied in machining, but I think that the one shown in Figs. 4 and 5 has many advantages in the way of-economy over either of the others. ; "Fig. 4 is a cross section of the metal as it leaves the rolling mill. A piece of the correct length is cut off, bent to a circle, and electrically butt welded. The band is then passed through special V-shaped rollers, which bend the proctions over as Shown in Fig. 5. I have actually seen this method in operation, and it appears to me to have all the merits of the first one, as regards being suitable for its purposes, besides being more economical."
A52 After Repairing Pneumatic Tires.
[1663] " K.P." (Weymouth) writes :—" After making a repair on an inner tube—First, see that the washers on the N alve are screwed down tightly at the base so that they do not break. Two, see that the plungers or valve insides are not worn and that they are in good working condition. Three, inflate the tube, testing it in water to see that there are no small leaks which may have been overlooked during the work. Four, see that the proper length of valve is used with the tube. Short valves are used for regular clincher tires or quick, detachable; and the long or extension valves when the tires are used on demount
able rims." . • . . . ,
Two Useful Home-made Tools.
[1664] -"-X " (Cardiff) writes :—" The following couple of tips may be of use to the readers of your D. and M.' page. The first one shows how to use a four-jaw chuck as a two-jaw when the necessity arises. All that is required is a couple of pieces of angle iron sawn to a convenient length and carried by the four jaws as shown in-the•sketch herewith [We have had this redrawn.—ED: j.
"The other refers to a pin spanner. This is made by getting two pieces of 1* in. by in. steel plate of suitable length and fixing them together by means of rivets, spacing them apart by short pieces of iron piping, so that the distance between them is in. Between should be placed as shown in the sketch [We have had this redrawn—ED.] two bobbin-shaped pieces with projections at their ends. The projections may be -N in. diameter at one end and in. at the other end of each bobbin. These can readily be set any distance apart, and practically any type of nut which needs a pin spanner may be revolved."