A Year Ago.
26th August 1915
Page 2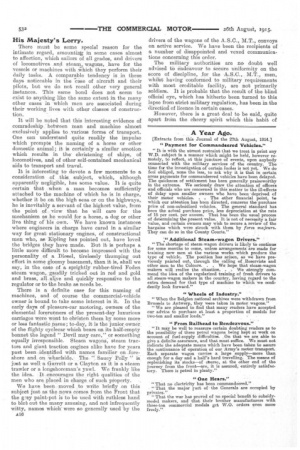 Page 2, 26th August 1915 —
A Year Ago.
Close
[Extracts from this Journal of the 27th August, 1914.]
" Payment for Commandeered Vehicles."
"It is with the utmost restraint that we treat in print any W.D. subject in a manner which might be held, however remotely, to reflect, at this juncture of events, upon anybody connected with the military services of the country. The time fcr the investigation of certain 'aches is not yet. We do feel obliged, none the less, to ask why it is that in oertain areas payments for commandeered vehicles have been delayed. The quickness of settlement has been generally praiseworthy in the extreme. We seriously draw the attention of officers and officials who are concerned in this matter to the ill-effects of delay upon smaller owners who have been • deprived of their motor vehicles. . . The other financial, point, to which our attention-has been directed, concerns the purchase price of non-subsidized vehicles. The general standard has been the actual purchase price, less depreciation at the rate of 15 per cent_ per annum. That has been the usual process of determining the present value. It is not of necessity a fair value, and certain owners may with to secure a review of the bargains which were struck with them by force majeure. They can do so in the County Courts."
Additional Steam-wagon Drivers."
The shortage of steam-wagon drivers is likely te continue for some months to come, unless arrangements' are made for training new men at the various works. which produce the type of vehicle. The position has arisen, as we have previously painted out, through the calling of Reservists and other men to the Colours. . We hope that steam-wagon makers Will realize the situation. .• We -strongly cornmend the idea of the regularized training of fresh drivers to all steam-wagon makers in the country, having regard to the extra demand for that type of machine to Which we confidently look forward."
"Wheels of Industry."
" When the Belgian national archives were withdrawn from Brussels to Antwerp, they were taken in motor, wagons." "We are pleased to find that many readers have accepted our advice to purchase at least a proportion of models for Live-ton and smaller loads."
"From Railhead to Rendezvous.— . "It may be well to reassure certain doubting readers as to the possibility of these petrol wagons being kept atwork on accountof fuel-supply difficulties. On that we are able to give a definite assurance, and that-must suffice. We must not indicate. the adequate means which have been taken to assure the continuance of operation of our Army's motor transport. Each separate wagon carries a large supply—more than enough for a day and a half's hard travelling. The means of replenishing its stocks—of Antrse, at the other end of the journey from the front—are, it is assured,entirely satisfactory. There is petrol in plenty."
"One Bears."
"That no electricity has been commandeered."
"That t, th e major rart of the Generals are occupied by privates."
"That the war has proved of no special benefit to subsidymodel makers, and that their brother manufacturers with three-ton commercial models get W.O. orders even more freely."