Swedish Torque Meter
25th May 1962
Page 70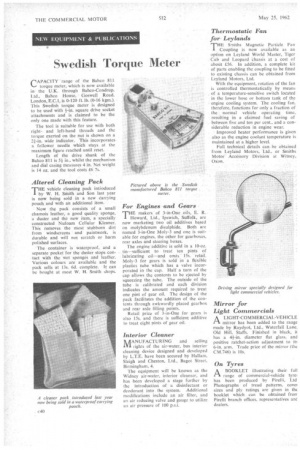 Page 70, 25th May 1962 —
Swedish Torque Meter
Close
CAPACITY range of the Bahco 811 torque meter, which is now available in the U.K. through Bahco-Condrup, Ltd., Bahco House, Goswell Road, London, E.C.1, is 0-120 ft. lb. (0-16 kgm.). This Swedish torque meter is designed to be used with +-in. square drive socket attachments and is claimed to be the only one made with this feature.
The tool is suitable for use with both rightand left-hand threads and the torque exerted on the nut is shown on a 21-in, wide indicator. This incorporates a follower needle which stays at the maximum figure reached until reset.
Length of the drive shank of the Bahco 811 is 51 in., whilst the mechanism and dial casing measures 4 in. Net weight is 14 oz. and the tool costs £6 7s.
Altered Cleaning Pack
THE vehicle cleaning pack introduced by W. H. Smith and Son last year is now being sold• in a new carrying pouch and with an additional item.
Now the pack consists of a small chamois leather, a good quality sponge, a duster and the new item, a specially constructed Nufoam Cellular Kleaner. This removes •the most stubborn dirt from windscreens and paintwork, is durable and will not scratch or harm polished surfaces.
The container is waterproof, and a separate pocket for the duster stops contact With the wet sponges and leather. Various colours are available and the pack sells at 13s. 6d. complete. It can be bought at most W. H. Smith shops.
For Engines and Gears
THE makers of 3-in-One oils, E. R. Howard, Ltd., Ipswich, Suffolk, are now marketing two oil additives based on molybdenum disulphide. Both are named 3-in-One Moly-3 and one is suitable for engines, the other for gearboxes, rear axles and steering boxes.
The engine additive is sold in a 10-oz. tin—sufficient to treat ten pints of lubricating oil—and costs " 15s. retail. Moly-3 for gears is sold in a flexible plastics tube which has a valve incorporated in the cap. Half a turn of the cap allows the contents to be ejected by squeezing the tube. The outside of the tube • is calibrated and each division indicates the amount required to treat one pint of gear oil. The design of the pack facilitates the addition of the contents through awkwardly placed gearbox and rear axle filling points.
Retail price of 3-in-One for gears is also 15s. and there is sufficient additive to treat eight pints of gear oil.
Interior Cleaner
it /I A N UFACTUR1NG and selling IVA rights of the air-water, bus interior cleaning device designed and developed by L.T.E. have been secured by Hallam, Sleigh and Cheston, Ltd., Bagot Street, Birmingham, 4.
The equipment will be known as the Widney air-water, interior cleanser, and has been developed a stage further by the introduction of a disinfectant or deodorant into the system. Additional modifications include an air filter, and an air reducing valve and gauge to utilize an air pressure of 100 p.s.i.
Thermostatic Fan for Leylancls
THE Smiths Magnetic Particle Fan Coupling is now available as an option on Leyland World Master, Tiger Cub and Leopard Chassis at a cost of about £56. In addition, a complete kit of parts enabling the coupling to be fitted to existing chassis can be obtained from Leyland Motors, Ltd.
With the equipment, rotation of the fan is controlled thermostatically by means , of a temperature-sensitive switch located in the lower hose or bottom tank of the engine cooling system. The cooling fan, therefore, functions for only a fraction of the normal vehicle operating time, • resulting in a claimed fuel saving of • between five and ten per cent., and a considerable reduction in engine wear.
Improved heater performance is given also as the engine coolant temperature is maintained at a higher level.
Full technical details can be obtained from Leyland Motors, Ltd., or Smiths MotorAccessory Division at Witney, Oxon.
Mirror for Light Commercials
A LIGHT-COMMERCIAL-VEHICLE r-k mirror has been added to the range made by Raydyot, Ltd., Waterfall Lane, Old Hill, Staffs. Finished in black, it has a 4+-in, diameter flat glass, and positive ratchet-action adjustment to it 6-in, arm. Trade price of the mirror (the CM.746) is 10s.
On Tyres
rAA BOOKLET illustrating their. full range of commercial-vehicle tyre! has been produced by Pirelli, Ltd Photographs of tread patterns, cove' sizes and ply ratings are given in thc booklet which can be obtained fronPirelli branch offices, representatives anc dealers.