How to Beat the Peak
25th May 1962
Page 58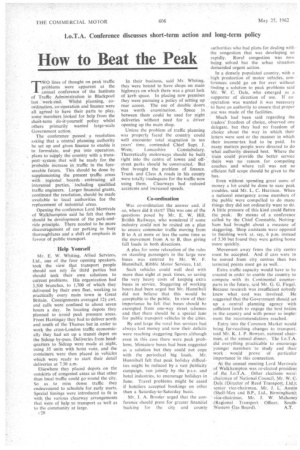 Page 58, 25th May 1962 —
How to Beat the Peak
Close
TWO lines of thought on peak traffic problems were apparent at the annual conference of the Institute of Traffic Administration in Blackpool last week-end. Whilst planning, coordination, co-operation and finance were all agreed to have their parts to play, some members looked for help from the shoit-term do-if-yourself policy whilst others primarily wanted large-scale Government action,
The conference passed a resolution. asking that a cantral planning authority be set up and given finance to enable it to formulate, and put into operation, plans to supply the country with a transport' system._ that will be ready for. the probable increase in traffic in the foreseeable future. This should be done by supplementing the present traffic areas with regional, boards . embracing all interested parties, including qualified traffic engineers. Larger financial grants, continued the resolution, should be made available to local authorities for the replacement of industrial areas.
Opening the conference Lord Merrivale of Walkhampton said he felt that there should be development of the park-andride principle. There needed to be more discouragement of ear parking in busy thoroughfares and a shift of emphasis in favour of public transport.
Help Yourself Mr. E. W. Whiting, Allied Services, Ltd., one of the four opening speakers, took the view that transport people should not rely Ln third parties but should seek their own solutions to current problems. His 'organization had 3,300 branches, to 1,700 of which they delivered by their own fleet, working to practically every main town in Great Britain. Consignments averaged In cwt. and calls were confined to about seven hours a day. In locating depots they planned to avoid peak pressure areas. From Harringay they had to deliver north and -south of the Thames but in order to work the cross-London traffic economically -they had set up a transit depot on the Sidcup by-pass. Deliveries from headquarters to Sidcup were made at night, using 35 units with hoist vans, and the containers were then placed in vehicles which were ready to start their detail deliveries at 7.30 a.m.
Elsewhere they placed depots on the outskirts of congested areas so that other than local traffic could go round the city. So as, to miss dense traffic they endeavoured to schedule for early starts. Special timings were introduced to fit in with the various clearway arrangements that were of help totransport as well as to the community at large.
c28 In their business, said Mr. Whiting, they were bound to have shops on main highways on which there was a great lack of kerb space. In placing new premises they were pursuing a policy of setting up rear access. The use of double doors, was worth examination. Space in between them could be used for night deliveries without need for a driver opening up the main shop.
Unless the problem of traffic planning was properly faced the country could well encounter total stagnation in ten years' time, contended Chief Supt. J.
Wren, I ,an cashire Constabulary. Theoretically motorways should be built right into the centre of towns and offstreet parks should be constructed.But that brought the problem of finance. Trunk and Class A roads in his county were totally inadequate for the traffic now' using them. Clearways had reduced accidents and increased speeds.
Co-ordination
Was co-ordination the answer and, if so, where did it start? This was one of the questions posed by Mr. E. W. Hill, British Railways, who wondered if some industry could not be rcsited on a plan to ensure commuter traffic moving from B to A at more or less the same time as the movement from A to B, thus giving full loads in both directions.
A plea for some relaxation of the rules on standing passengers in the large new buses was entered by Mr. W. F. I-Junniball, Ribble Motor Services, Ltd.
Such vehicles could well deal with more than eight at peak times, so saving the very heavy costs of keeping extra buses in service. Staggering of working hours bad-been urged but Mr. Ilunniball did not believe that this would be acceptable to the public. In view of their importance he felt that buses should be exempted from one-way street schemes and that there should be a special lane for public transport vehicles in the cities.
By and large the rural bus services had always lost money and now their deficits were reaching staggering figures although even in this case there were peak problems. Miniature buses had been suggested as a solution but they could not cope with the periodical big loads. Mr. Hunniball felt that peak holiday difficulties might be reduced by a vast Publicity campaign, run jointly by the p.s.v. and hotel industries, to encourage holidays in June. Travel problems might be eased if hoteliers accepted bookings on 'other than a Saturday-to-Saturday basis.
MT. J. A. Brosier urged that the conference should press for greater financial backing for the city and county authorities who had plans for dealing with' the congestion that was developing so rapidly. Rural congestion was now being solved but the urban situation demanded urgent action.
In a densely populated country, with a high production of motor vehicles, conferences could go on for ever without finding a solution to peak problems said Mr. W. C. Dale, who emerged as a supporter of direction of use. If cooperation was wanted it was necessary to have an authority to ensure that proper use was made of the facilities.
Much had been said regarding the traders' freedom of choice, observed one delegate, but they had no freedom of choice about the way in which their letters were sent or the manner in which their income-tax had to be paid. In many matters people ,were directed to do what authority deemed best. Where the train could provide the better service there was no reason for competing coaches and where rail was not so efficient full scope should be given to the bus.
Even without spending great sums of money a lot could be done to ease peak troubles, said Mr. L. C. Harrison. When a national emergency arose members of the public were compelled to do many, things they did not ordinarily want to do. A little pressure of this kind could flatten the peak. • By Means of a conference called by the Chief Constable, Nottingham had brought about a measure of staggering. Shop assistants were opposed to finishing work at, say, 6 p.m. instead of 5.30 but found they were getting home more quickly.
Movement away from the city centre must be accepted. And if cars were to be moved from city centres then bus terminal points must go as well..
Extra traffic capacity would have to be created in order to enable the country to compete with its Continental counterparts in the future, said Mr. G. G. Fiegel. Because research was insufficient nobody knew what cost was involved. He suggested that the, Government should set up a .central .planning agency With sufficient funds to engage the bast brains in the country and with power to imple, ment the recommendations reached.
Entry into the Common Market would bring far-reaching changes to transport, said Mr; K. J. P. Bowyer, national chairman, at the annual dinner.. The Lo.T.A. did everything practicable to encourage younger members 'to Study and their work would prove of particular importance in this connection.
At the annual meeting Lord 14Ierrivale of Walkhampton was re-elected president of the I.o.T.A. Other elections were': chairman of National Council, Mr. W. C. Dale.(Director of Reed Transport, Ltd.); senior vice-chairman, Mr. J. L. Austin (Shell-Mex and B.P., Ltd., Birmingham); ' vice-chairinan, Mr. J. W. Mahoney .(Regional Transport Officer, South
Western Gas Board). AT.
Tags
People
:
Supt
,
E. W. Hill
,
W. Whiting
,
Ilunniball
,
W. C. Dale
,
Nottingham
,
Hunniball
,
G. G. Fiegel
,
J. P. Bowyer
,
J. W. Mahoney
,
L. C. Harrison
,
J. A. Brosier
,
J. L. Austin