Time to Abolish Restrictions
25th May 1962
Page 50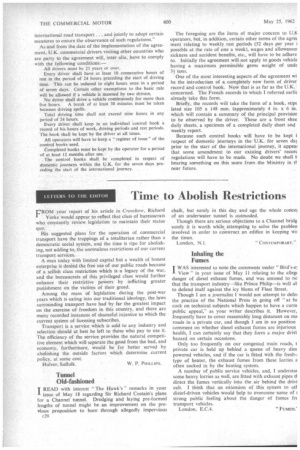 Page 50, 25th May 1962 —
Time to Abolish Restrictions
Close
rROM your report of his article in Crossbow, Richard Yorke would appear to reflect that class of bureaucrats who constantly review legislation to maintain their status quo.
His suggested plans for the operation of commercial transport have the trappings of a totalitarian rather than a democratic social system, and the time is ripe for abolishing, not adding to; the anomalous restrictions of our current transport services.
A man today with limited capital but a wealth of honest enterprise is denied the free use of our public roads because of a selfish class restriction which is a legacy of the war, and the bureaucrats of this privileged class would further enhance their restrictive powers by inflicting greater punishment on the victims of their greed.
Among the mass of legislation during the post-war years which is eating into our traditional ideology, the laws surrounding transport have had by far the greatest impact on the exercise of freedom in this country, and there are many recorded instances of shameful injustice to which the current system of licensing subscribes.
Transport is a service which is sold to any industry and selection should at best be left to those who pay to use it. The efficiency of the service provides the natural competitive element which will separate the good from the bad, and economy, furthermore, would be far better served by abolishing the outside factors which determine current policy, at some cost.
Hulver, Suffolk. W. P. PHILLIPS.
Tunnel Old-fashioned
T READ with interest "The Hawk's" remarks in your issue of May 18 regarding Sir Richard Costain's plans for a Channel tunnel. Dredging and laying pre-formed lengths of tunnel might be an improvement on the previous proposition to bore through allegedly impervious
c20 chalk, but surely in this day and age the whole concei of an underwater tunnel is outmoded.
Though there are serious objections to a Channel bridg surely it is worth while, attempting to solve the problen involved in order to construct an edifice in keeping wil the times.
London, NI. " CON rEMPORARY."
Inhaling the Fumes
T WAS interested to note the comments under " Bird's-e! -I
View" in your issue of May 11 relating to the alley danger of diesel exhaust fumes, and was amused to ric that the transport industry—like Prince Philip—is well at to defend itself against the icy blasts of Fleet Street.
Though I am a journalist I would not attempt to defei the practice of the National Press in going off "at hi cock on technical subjects which happen to have a curre public appeal," as your writer describes it. However, frequently have to cover reasonably long distances on ma roads in a private car, and though I am in no position comment on whether diesel exhaust fumes are injurious health, I can certainly say that they form a major driVi hazard on certain occasions.
Only too frequently on our congested main roads, t private car is held up behind a queue of heavy dies powered vehicles, and if the car is fitted with the fresh, type of heater, the exhaust fumes from these lorries a often sucked in by the heating system.
A number of public service vehicles, and, I understal some heavy lorries as well, are fitted with exhaust pipes tl direct the fumes vertically into the air behind the drivi cab. I think that an extension of this system to otl diesel-driven vehicles would help to overcome some of 1 strong public feeling about the danger of fumes fix transport vehicles.
London. E.C.4. "FUMED.'