Quite Alarming
25th May 1962
Page 43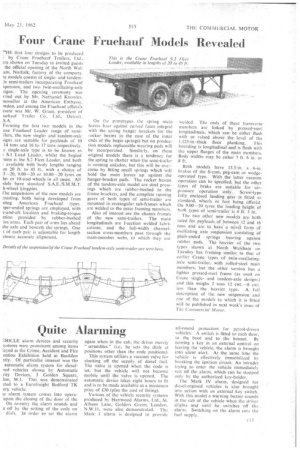 Page 43, 25th May 1962 —
Quite Alarming
Close
E.HICLE alarm devices and security systems were prominent among items tayed at the Crime, Accident and Fire ention Exhibition held at Basildon atty. Of particular interest was the automatic alarm system for diesel-led vehicles shown. by Automatic rity Devices, 3 Golden Square, Jon, W.I. This was demonstrated tted to a Furofreight Bedford TK ery vehicle.
ie alarm system comes into operaupon the closing of the door of the On re-entry the alarm sounds and 1 off by the setting of the code on dials. In order to set the alarm again when in the cab, the driver merely " scrambles" (i.e., he sets the dials at positions other than the code positions) This system utilizes a vacuum valve for shutting off the supply of diesel fuel, The valve is opened when the code is set, but the vehicle will not become mobile until the valve is opened. The automatic device takes eight hours to fit and is to be made available at a minimum price of 130 (plus the cost of fitting).
Various of the vehicle security systems produced by Hartwood Alarms, Ltd., St. Albans Lane, GoIders Green, London, N.W.11, were also demonstrated. The Mark I alarm is designed to provide all-round protection for petrol-driven vehicles. A switch is fitted to each door, to the boot and to the bonnet. By turning a key in an external control on leaving the vehicle, the alarm is brought into silent alert. At the same time the vehicle is effectively immobilized by breaking the ignition circuit. An intruder trying to enter the vehicle immediately sets off the alarm, which can be stopped only by the authorized key-holder.
'the Mark IV alarm, designed for diesel-engined vehicles is also brought into action with an external -key switch. With this model a warning buzzer sounds in the cab of the vehicle when the driver alights and until he switches off the, alarm. Switching on the alarm cuts he fuel supply.