Mobile Power for Tree Lopping
25th May 1962
Page 39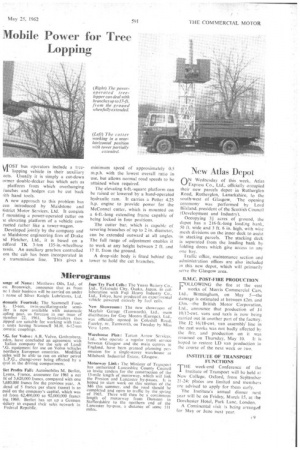 Page 39, 25th May 1962 —
Mobile Power for Tree Lopping
Close
LIOST bus operators include a treelopping vehicle in their auxiliary eels. Usually it is simply a cut-down armer double-decker bus which acts as
platform from which overhanging ranches and hedges can be cut back 4th hand tools.
A new approach to this problem has een introduced by Maidstone and tistrict.Motor Services, Ltd. It conlists f mounting a power-operated cutter on se elevating platform of a vehicle conructed rather like a tower-wagon.
Developed jointly by the company and te Maidstone engineering firm of Drake Id Fletcher, Ltd., it is based on a edford TK 3-ton 135-in.-wheelbase tassis. An auxiliary gearbox controlled om the cab has been incorporated in e transmission line. This gives a minimum speed of approximately 0.5 m.p.h. with the lowest overall ratio in use, but allows normal road speeds to be attained when required.
The elevating 6-ft.-square platform can be raised or lowered by a hand-operated hydraulic ram. It carries a Fetter 4.25 h.p. engine to provide power for the McConnel cutter, which is mounted on a 6-ft.-long extending frame capable of being locked in four positions.
The cutter bar, which is capable of severing branches of up to 2 in. diameter, can be extended outward at all angles. The full range of adjustment enables it to work at any height between 2 ft. and 17 ft. from the ground.
A drop-side body is fitted behind the tower to hold the cut branches.