Limited Licence for Air Company
25th May 1962
Page 38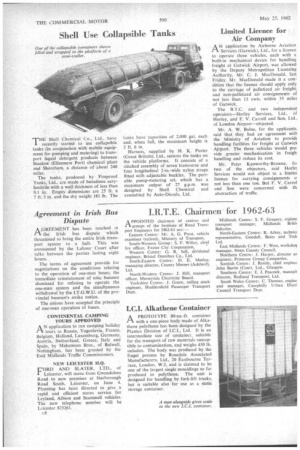 Page 38, 25th May 1962 —
Limited Licence for Air Company
Close
AN application by Airborne Aviation Services (Gatwick), Ltd., for a licence to operate three vehicles, each with a built-in mechanical device for handling freight at Gatwick Airport, was allowed by the Deputy Metropolitan Licensing Authority, Mr. C. J. MacDonald, last Friday. Mr. MacDonald made it a condition that the licence should apply only to the carriage of palletized air freight, and non-palletized air consignments of not less than 13 cwts. within 35 miles of Gatwick.
The B.T.C. and two independent operators—Horley Services. Ltd., of Honey, and F. V. Carroll and Son, Ltd., of London Airport—objected.
Mr. A. W. Balne, for the applicants said that they had an agreement with the Ministry of Aviation to providc handling facilities for freight at Gatwick Airport. The threevehicles would pro vide greater mechanization in freigh handling and reduce its cost.
Mr. Peter Kenworthy-Browne, fo two of the objectors, said Horle■ Services would not object to a limitec licence for carrying consignments o not less than one ton. But F. V. Carrol and Son were concerned with th abstraction of traffic.