I.R.T.E. Chairmen for 1 96 2-6 3
25th May 1962
Page 38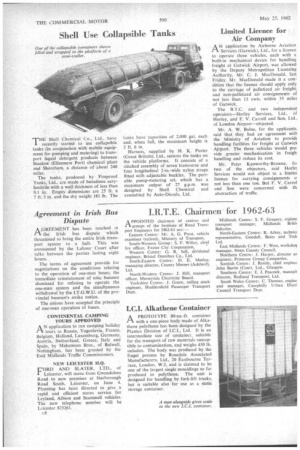 Page 38, 25th May 1962 —
I.R.T.E. Chairmen for 1 96 2-6 3
Close
A PPOINTED chairmen of centres and I-1 groups of the Institute of Road Transport Engineers for 1962-63 are:—
Eastern Centre: Mr. A. G. Prest, vehicle examiner (retired), Ministry of Transport.
South-Western Group: S. F. Willey, chief fire officer, Exeter City Corporation.
Western Centre: G. R. Sell, divisional engineer, Bristol Omnibus Co., Ltd.
South-Eastern Centre: D. E. Morley, managing director, County Motors (Ashford), Ltd.
North-Western Centre: J. Hill, transport -officer, Merseyside Electricity Board.
Yorkshire Centre: J. Green, rolling stock engineer, Huddersfield Passenger Transport Dept. Midlands Centre: S. F. Gregory, regiotu transport manager, Midlands Britis Bakeries.
North-Eastern Centre: R. Athey, techniei representative, Goodall, Bates and Toth Ltd.
East Midlands Centre: F. West, workshoi manager, Notts County Council.
Northern Centre: J. Harper, director am engineer, Primrose Group Companies.
Scottish Centre: J. Reside, chief engince John Barrie (Cont), Ltd., Glasgow.
Southern Centre: E. J. Peacock, managii director, Redland Transport, Ltd.
South Wales Centre: C. Thomas, engine and manager, Caerphilly Urban Distri Council Transport Dept.
Tags
Organisations
:
Toth Ltd. East Midlands Centre
,
Merseyside Electricity Board
,
Institute of Road Transport Engineers
,
Scottish Centre
,
North-Eastern Centre
,
Eastern Centre
,
South-Eastern Centre
,
Yorkshire Centre
,
Northern Centre
,
Huddersfield Passenger Transport Dept. Midlands Centre
,
Western Centre
,
Southern Centre
,
Ltd. South Wales Centre
,
Notts County Council
,
North-Western Centre
,
Ministry of Transport
People
:
A. G. Prest
,
F. West
,
R. Athey
,
S. F. Willey
,
Caerphilly Urban
,
Huddersfield Passenger
,
J. Harper
,
Goodall
,
Merseyside Electricity
,
Midlands Britis Bakeries
,
E. J. Peacock
,
S. F. Gregory
,
D. E. Morley