Agreement in Irish Bus Dispute
25th May 1962
Page 38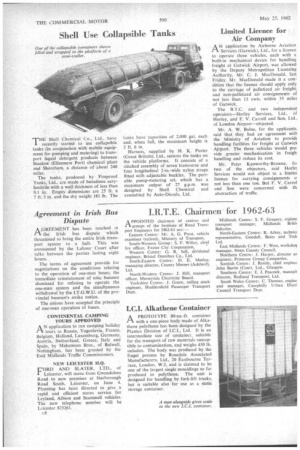 Page 38, 25th May 1962 —
Agreement in Irish Bus Dispute
Close
AE has been reached m
PA the Irish bus dispute which threatened to bring the entire Irish transport system to a halt. This was announced by the Labour Court after talks between the parties lasting eight hours.
The terms of agreement provide for negotiations on the conditions relating to the operation of one-man buses; the immediate reinstatement of nine busmen dismissed for refusing to operate the one-man system and the simultaneous withdrawal by the I.T.G.W.U. of the provincial busmen's strike notice.
The unions have accepted the principle of one-man operation of buses.
CONTINENTAL CAMPING TOURS APPROVED
ANapplication to run camping holiday tours to Russia, Yugoslavia. France, Belgium, Holland, Luxemburg, Germany, Austria, Switzerland, Greece, Italy and Spain, by Makemson Bros., of Bulwell, Nottingham, has been granted by the East Midlands Traffic Commissioners.
NEW LEICESTER H.Q. CORD AND SLATER, LTD., of I Leicester, will move from Gwendolem Road to new premises at Narborough Road South, Leicester, on June 4. Planning has been directed to give a rapid and efficient stores service for Leyland, Albion and Scammell vehicles. The new telephone number will be Leicester 823261.
c8
Alkathene Container
A PROTOTYPE 80-cu.-ft. container Pt with a one-piece body made of Alkathene polythene has been designed by the
Plastics Division of Ltd. It is an intermediate size of container, suitable for the transport of raw materials susceptible to contamination, and weighs 450 lb. unladen. The body was produced by the Engel process by Rosedale Associated Manufacturers, Ltd., 20 Eastbourne Terrace, London. W.2, and is claimed to be one of the largest single mouldings so far produced in polythene. The unit is designed for handling by fork-lift trucks, but is suitable also for use as a static storage container.