"Road Board" Defeat
25th May 1962
Page 35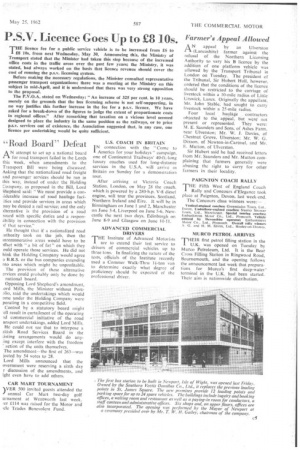 Page 35, 25th May 1962 —
"Road Board" Defeat
Close
AN attempt to set up a national board for road transport failed in the Lords this week, when amendments to the Transport Bill were being discussed. Asking that the nationalized road freight and passenger services should be run in this way, instead of under the Holding Company, as proposed in the Bill, Lord ;hepherd said: "We must provide a con,iderable increase of road haulage faciities and provide services in areas which nay be denied a rail service; and the only ilternative is the provision of a road )oard with specific duties and a responability in connection with the provision if that service."
He thought that if a nationalized road .uthority took on the job, then the mremunerative areas would have to be iffset with "a bit of fat" on which they ould operate those services. He did not hink the Holding Company would agree a B.R.S. or the bus companies extending nto areas which might be unprofitable. The provision of these alternative ervices could probably only be done by national board.
Opposing Lord Shepherd's amendment. .ord Mills, the Minister without Portalio, said the undertakings which would ame under the Holding Company were perating in a competitive field.
Control by a statutory board might en result in curtailment of the operating tcl commercial initiative of the road ansport undertakings, added Lord Mills. He could not see that to interpose a ritish Road Services Board in the dsting arrangements would do anyLing except interfere with the freedom action of the units themselves.
The amendment—the first of 263--was jected by 54 votes to 28.
Lord Mills announced that the overnment were reserving a sixth day r discussion of the amendments, and ight even have to add others.
CAR MART TOURNAMENT NVER 500 invited guests attended the annual Car Mart two-day golf urnament at Wentworth last week. er £114 was raised far the Motor and ,cle Trades Benevolent Fund.