P.S.V. Licence Goes Up to £8 10s.
25th May 1962
Page 35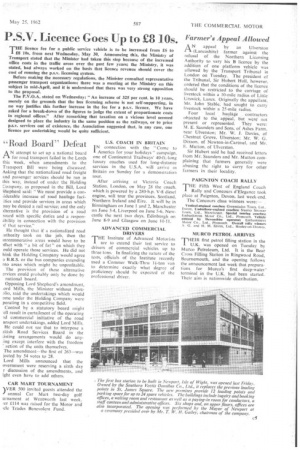 Page 35, 25th May 1962 —
P.S.V. Licence Goes Up to £8 10s.
Close
THE licence fee for a public service vehicle is to be increased from £6 to 1 £8 10s. from next Wednesday, May 30. Announcing this, the Ministry of Transport stated that the Minister had taken this step because of the increased office costs in the traffic areas over the past few years; the Ministry, it was stated, had always worked on the basis that licence revenue should cover the cost of running the p.s.v licensing system.
Before making the necessary regulations, the Minister consulted representative passenger transport organizations; there was a meeting at the Ministry on this subject in mid-April, and it is understood that there was very strong opposition to the proposal.
The P.V.O.A. stated on Wednesday: "An increase of 325 per cent, in 10 years, merely on the grounds that the bus licensing scheme is not self-supporting, in no way justifies this further increase in the fee for a p.s.v. licence. We have asked for a break-down of the figures to judge the extent of proportionate costs in regional offices." After remarking that taxation on a vicious level seemed designed to place the industry in the same position as the railways, or to price p.s.v. services out of existence, the Association suggested that, in any case, one licence per undertaking would be quite sufficient.
U.S. COACH IN BRITAIN
IN connection with the "Come to
America for your holidays" campaign, one of Continental Trailways' 40-ft.-long luxury coaches used for long-distance services in the U.S.A. will arrive in Britain on Sunday for a demonstration tour.
After arriving at Victoria Coach Station, London, on May 28 the coach. which is powered by a 280-h.p. V-8 diesel engine, will tour the provinces, Scotland. Northern Ireland and Eire. It will be in Birmingham on June 1 and 2, Manchester on June 3-4, Liverpool on June 5-6, Newcastle the next two days, Edinburgh on June 8-9 and Glasgow on June 10-11.
ADVANCED COMMERCIAL DRIVERS
THE Institute of Advanced Motorists are to extend their test service to drivers of commercial vehicles up to three tons. In financing the nature of the tests, officials of the Institute recently used a Commer Walk-Thru 11-ton van to determine exactly what degree of proficiency should he expected of the professional driver.