Farmer's Appeal Allowed
25th May 1962
Page 35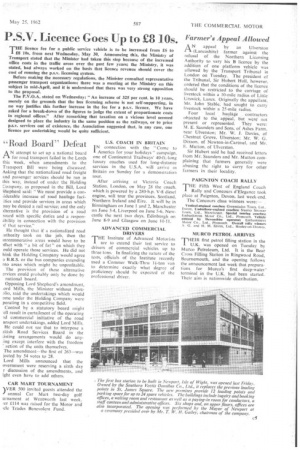 Page 35, 25th May 1962 —
Farmer's Appeal Allowed
Close
AN appeal by an Ulverston (Lancashire) farmer against the refusal of the Northern Licensing Authority to vary his B licence by the addition of one platform vehicle was allowed by the Transport Tribunal in London on Tuesday. The president of the Tribunal, Sir Hubert Hull, however. ordered that the conditions of the licence should be restricted to the carriage of livestock within a 10-mile radius of Little Urswick, Lancs. Originally the appellant, Mr. John Stable, had sought to carry livestock within a 25-mile radius.
Four local haulage contractors objected to the :appeal, but .vverenot present or represented. They were: M. E. Saunders and Sons, of Ashes Farm, near Ulverston; Mr. W. J. Davies, of Chestnut Grove, Ulverston; Mr. W. G. Dixson, of Newton-in-Cartmel, and Mr. E. Mutton, of Ulverston.
Sir Hubert said he had received letters From Mr. Saunders and Mr. Mutton complaining that farmers generally were abusing the right to carry for other farmers in their locality.
PAIGNTON COACH RALLY
THE Fifth West of England Coach Rally and Concours d'Elegance took place at Paignton, Devon, last week-end. The Concours class winners were:— .
Vertical-engleed coaches: Creenslades Tours, Ltd.. Exeter. Underfloor-engined coaches: Stanley Spencer lours, Ltd.. Manchester. Special touring coaches: Embankment Motor Co., Ltd., Plymouth. Vehicle entered by Devonshire operator: Embankment Motor Co., Ltd., Plymouth. Overall rally winner: A.13. and H. M. Spins, Ltd., Henley-on-Thames.
MURCO PETROL ARRIVES
THEIR first petrol filling station in the 1 U.K. was opened on Tuesday by Murcia Petroleum, Ltd. It is the Bear Cross Filling Station in Ringwood Road, Bournemouth, and the opening follows the announcement last week that preparations for Murco's first deep-water' terminal in the U.K. had been started. Their aim is nationwide distribution.