Strike Threat by B.E.T.
25th May 1962
Page 32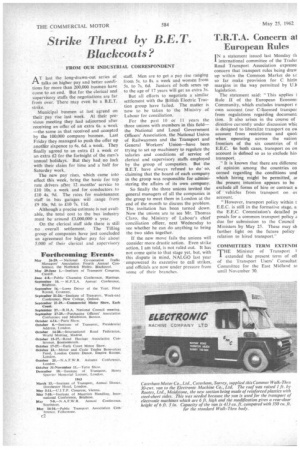 Page 32, 25th May 1962 —
Strike Threat by B.E.T.
Close
Blackcoats?
FROM OUR INDUSTRIAL CORRESPONDENT
AT last the long-drawn-out series of talks on higher pay and better condi
tions for more than 200,000 busmen have come to an end. But for the clerical and supervisory staffs the negotiations are far from over. There may even be a B.E.T. strike.
Municipal busmen at last agreed on their pay rise last week. At their previous meeting they had adjourned after receiving an offer of an extra 6s. a week -the same as that received and accepted by the 100,000 company busmen, Last Friday they managed to push the offer up anotlfer sixpence to 6s. 6d. a week. They finally agreed to an extra El a week or an extra £2 for the fortnight of the men's annual holidays. But they had no luck with their claim for time and a half for Saturday work.
The new pay rises, which came into effect this week, bring the basic for top rate drivers after 12 months' service to £10 10s, a week and for conductors to £10 4s. 9d. The rates for maintenance staff in bus garages will range from £9 10s, 9d. to £10 7s. 11d.
Although a precise estimate is not available, the total cost to the bus industry must be around £3,000,000 a year.
On the clerical staff side there is still no overall settlement. The Tilling group of companies have just concluded an agreement for higher pay for about 5.000 of their clerical and supervisory
Forthcoming Events
May 26-29. National Co-operative Traffic Managers' Association Fourth Annual Con ference. the Norbreck Hydro, Blackpool.
May 294une 1.-Institute of Transport Congress. Cardiff.
June 4-8.-Public Cleansing Conference. Hastings. September 10.M.P.T.A. Annual Conference, Brighton.
September 16.-Lorry Driver of the Year. Final Round, Coventry.
September 21-24.-Institute of Transport, Week-end Conference, New College, Oxford.
September 21-29.-Commereia1 Motor Show, Each Conti.
September 27.-R.H.A. National Council meeting. September 27-29.-Purchasing Officers' Association Conference and Minibition, Buxton.
October 4-114.-Paris Show.
October 8.-Institute of Transport, Presidential Address, London.
October 14-20.-International Road Federation, World Meeting, Madrid, October 15-17.-Road Haulage Association Conference. Bournemouth.
October 17-27,-Earls Court Motor Show. October 23.-Motor and Cycle Trades Benevolent Fund, London Centre Dance, Empire Rooms, London.
October 25.-N.A.F.W.R. Autumn Conference, London.
October 31-November -11.-Turin Show.
December l0.-Institute of Transport, Henry Spurrier Memorial Lecture, London.
1963 !Starch 15.-Institute of Transport, Annual Dinner, Dorchester Hotel, London.
May 5-11.-1T.I.T.P. Congress, Vienna.
May 7-10.-Institute of Materials Handling, International Conference, Brighton.
May 7-9,-N. R. Annual Conference. Southport.
May 14-16.-Public Transport Association Conference. Folkestone.
staff. Men are to get a pay rise ranging from 5s. to 13s. a week and women from 5s. to 7s. 6d. Juniors of both sexes up to the age of 17 years will get an extra 3s.
But all efforts to negotiate a similar settlement with the British Electric Traction group have failed. The matter is now to be taken to the Ministry of Labour for conciliation,
For the past 10 or 11 years the three unions with members in this fieldthe National and Local Government Officers' Association, the National Union of Railwaymen and the Transport and General Workers' Union-have been trying to set up machinery to regulate the salaries and conditions of service of clerical and supervisory staffs employed by the group of companies. But the B.E.T. have always refused to do' so, claiming that the board of each company in the group was responsible for administering the affairs of its own company.
So finally the three unions invited the general managers of all the companies in the group to meet them in London at the end of the month to discuss the problem. The invitation has been turned down. Now the unions are to see Mr. Thomas Claro, the Ministry of Labour's chief conciliation officer, next Wednesday to see whether he can do anything to bring the two sides together.
If the new move fails the unions will consider more drastic action. Even strike action, I am told, is not ruled out. It has not come quite to that stage yet, but, with this dispute in mind, NALGO last year empowered its executive to call strikes, and officials are now under pressure from some of their branches.
Tags
Organisations
:
Congress
,
National and Local Government Officers' Association
,
Ministry of Labour
,
Transport and General Workers' Union
,
National Council
,
Benevolent Fund
,
National Union
,
Institute of Materials Handling
,
Road Federation
,
Institute of Transport
,
New College