Not What They Seem
25th May 1962
Page 30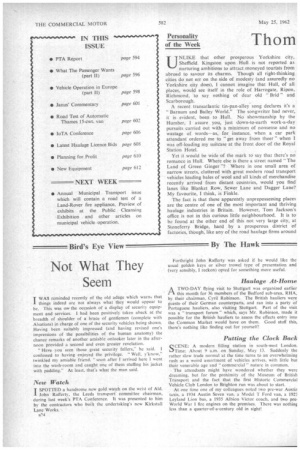 Page 30, 25th May 1962 —
Not What They Seem
Close
T WAS reminded recently of the old adage which warns that I things indeed are not always what they would appear to be. This was ow the occasion of a display of security equipment and services. I had been positively taken aback at the breadth of shoulder of a brace of gentlemen (complete with Alsatians) in charge of one of the security vehicles being shown. Having been suitably impressed (and having revised one's impressions of the possibilities of the human anatomy) the chance remarks of another amiable onlooker later in the afternoon provided a second and even greater revelation.
" Have you seen those great security fellers," he said. I confessed to having enjoyed the privilege. "Well, ylnow," twinkled my amiable friend. "soon after I arrived here 1 went into the wash-room and caught one of them stuffing his jacket with padding." At least, that's what the man said.
New Watch
T SPOTTED a handsome new gold watch on the wrist of Ald. 1 John Rafferty, the Leeds transport committee chairman, during last week's PTA Conference. It was presented to him by the contractors who built the undertaking's. new Kirkstall Lane Works. Forthright John Rafferty was asked if he would like the usual golden keys or silver trowel type of presentation and (very sensibly, I reckon) opted for something more useful.
Haulage At-Horne
PAA TWO-DAY flying visit to Stuttgart was organized earlier this month for 36 members of the Bedford sub-area, RHA, by their chairman, Cyril Robinson. The British hauliers were guests of their German counterparts, and ran into a party of Portuguese hauliers, also visiting Stuttgart. Part of the visit was a "transport forum which, says Mr. Robinson. made it possible for the British hauliers to assess the effects entry into the Common Market would have on them. Good stuff this, there's nothing like finding out for yourself!
Putting the Clock Back
SCENE: A modern filling station in south-west London. Li Time: About 9 a.m. on Sunday, May 13. Suddenly the rather slow trade normal at the time turns to an overwhelming rush as a weird assortment of vehicles arrives, with little but their venerable age and " commercial " nature in common.
The attendants might have wondered whether they were dreaming, but for the proximity of the Museum of British Transport and the fact that the first Historic Commercial Vehicle Club London to Brighton run was about to start.
At one time one of my colleagues noted two pre-war Austir taxis, a 1934 Austin Seven van. a Model T Ford van, a 192; Leyland Lion bus, a 1935 Albion Victor coach, and two pre, World War I fire engines on the premises. There was nothin less than a quarter-of-a-century old in sight!