Brass Tack Talk
25th May 1962
Page 29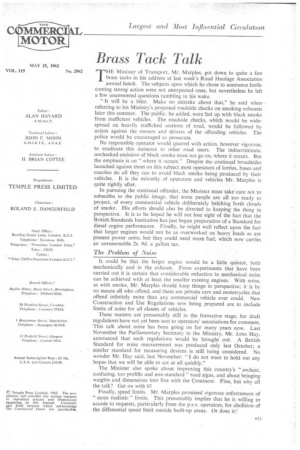 Page 29, 25th May 1962 —
Brass Tack Talk
Close
THE Minister of Transport, Mr. Marples, got down to quite a few brass tacks in his address at last week's Road Haulage Association annual lunch. The subjects upon which he chose to announce forthcoming strong action were not unexpected ones, but nevertheless he left a few unanswered questions tumbling in his wake.
"It will be a blitz. Make no mistake about that," he said when referring to his Ministry's proposed roadside checks on smoking exhausts later this summer. The public, he added, were led up with black smoke from inefficient vehicles. The roadside checks, which would be widespread on heavily trafficked sections of road, would be followed by action against the owners and drivers of the offending vehicles. The police would be encouraged to prosecute.
No responsible operator would quarrel with action, however vigorous, to eradicate this nuisance to other road users. The indiscriminate, unchecked emission of black smoke must not go on, where it occurs. But the emphasis is on "where it occurs." Despite the continual broadsides launched against them on this subject most operators of lorries, buses and coaches do all they can to avoid black smoke being produced by their vehicles. It is the minority of operators and vehicles Mr. Marples is quite rightly after.
In pursuing the continual offender, the Minister must take care not to subscribe to the public image, that some people are all too ready to project, of every commercial vehicle deliberately belching 'forth clouds of smoke. His efforts should also be directed to keeping the thing in perspective. It is to be hoped he will not lose sight of the fact that the British Standards Institution has just begun preparation of a Standard for diesel engine performance. Finally, he might well reflect upon the fact that larger engines would not be as overworked on heavy loads as are present power units; but they could need more fuel, which now carries an unreasonable 2s. 9d. a gallon tax.
The Problem of Noise
It could be that the larger engine would be a little quieter, both mechanically and in the exhaust. From experiments that have been carried out it is certain that considerable reduction in mechanical noise can be achieved with at least the smaller existing engines. With noise, as with smoke, Mr. Marples should keep things in perspective; it is by no means all who offend, and there are private cars and motorcycles that offend infinitely more than any commercial vehicle ever could. New Construction and Use Regulations now being prepared are to include limits of noise for all classes of vehicles.
These matters are presumably still in the formative stage, for draft regulations have not yet been sent to operators' associations for comment. This talk about noise has been going on for many years now. Last November the Parliamentary Secretary to the Ministry, Mr. John Hay, announced that such regulations would be brought out. A British Standard for noise measurement was produced only last October; a similar standard for measuring devices is still being considered. No wonder Mr. Hay said, last November: "I do not want to hold out any hopes that we will be able to act at all quickly."
The Minister also spoke about improving this country's "archaic, confusing, too prolific and non-standard" road signs, and about bringing weights and dimensions into line with the Continent. Fine, but why all the talk? Get on with it!
Finally, speed limits. Mr. Marples promised vigorous enforcement of "more realistic" limits. This presumably implies that he is willing to accede to requests, particularly from the p.s.v. operators, for abolition of the differential speed limit outside built-up areas. Or does it!