Faster getaway on instant brakes
25th July 1975
Page 25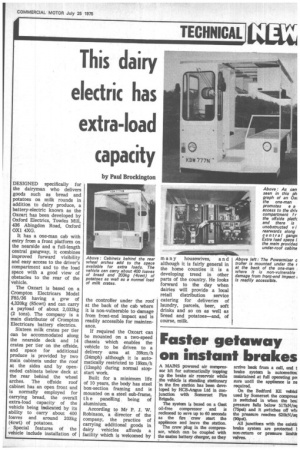 Page 25, 25th July 1975 —
Faster getaway on instant brakes
Close
A MAINS powered air compressor kit for automatically topping up the brake air reservoir while r the vehicle is standing stationary in the fire station has been developed by HCB-Angus Ltd in conjunction with Somerset Fire Brit:: de.
The system is based on a Guff oil-free compressor and is reckoned to save up to 60 seconds as the lire crew start the appliance and leave the station.
The crew plug in the compressor, which can be coupled with the mains battery charger, as they anive back from a call, and t brake system is automatica maintained at full operating pr sure until the appliance is ne required.
On the Bedford KE vehicl used by Somerset the compress is switched in when the bra pressure falls below 517kNisc (75psi) and it switches off wh the pressure reaches 620kN/sc (90P90.
All junctions with the exist" brake system are protected non-return or pressure limiti valves. .