TACKLING THE NOISE PROBLEM SCIENTIfICALLY
25th February 1944
Page 35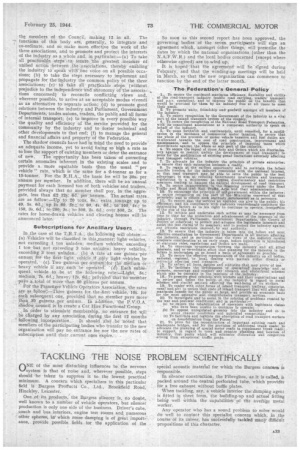 Page 35, 25th February 1944 —
TACKLING THE NOISE PROBLEM SCIENTIfICALLY
Close
ONE of the most disturbing influences to the nervous system is that of noise and, wherever possible, steps should be taken to suppress it to the lowest practical minimum. A concern which specializes in this Particular field is Burgess ProductS Co., Ltd., Brookfield Road. Hinckley, Leicester.
One of, its products, the Burgess silencer is, no doubt. well known to a number of vehicle operators, but silencer production is only one side of the business. Driver's cabs, coach and bus interiors, engine test rooms and numerous other spheres, in' which noise damping is of great impottance, provide possible fields for the application of the
special acoustic material for which the Burgess concern is • responsible.
In silencer construction, the Fibreglass, as it is called, is packed around the central perforated tube, which provides for a free exhaust without baffle plates.
When tackling, say, a vehicle interior the.damping agent is fitted iv sheet form, the building-up and actual fitting being well within the oapabilitie:S• of the aveiage metal worker.
Any operator who has a sound problem to solve would do well to contact this specialist concern which, in the course of its career, has successfully tackled man diffiCult propositions of this character.