Getting a Thrill from Anti-Freeze
25th February 1944
Page 25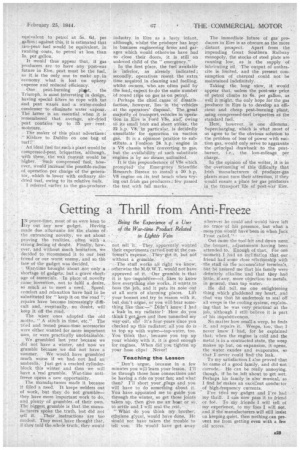 Page 25, 25th February 1944 —
Getting a Thrill from Anti-Freeze
Close
Being the Experience of a User of the War-time Product Related in Lighter Vein
IN peace-time, most of us were keen to itry out any new gadget. Having made due. alloWanee fcir the claims of the entrancing novelty, we set about proving the realities, often with a strong feeling of doubt. Finally, however, and 'without much .hesitation, we decided to recommend it to our best friend or our worst enemy, and so the fate of the •gadget was 'decided.
War-time -brought about .not only a shortage of gadgets, but 'a grave shorts age of essentials. In place of novelty came invention, not to fulfil a desire, so much as to meet a need.' . Speed, comfort and relaxation have had tci.be substituted for " keep it on the road ":. repairs have become increasingly diffi= cult and,: eventually, ne doubt, will
keep it off the road,
The wiser ones adopted the old motto, " A Stitch in time, etc." The tried and tested peace-time accessories were either wanted for more important uses, or were :practically unobtainable. We grumbled last year because we did not have a winter, and now we grumble because we did not have a summer. We would have grumbled much worse if we had not had -an.. Umbrella, Just get a cracked cylinderblock this winter and then we will have a 'real grumble. War-time -antifreeze opens a new opportunity.
The manufacturers made it because it filled a need. It keeps welders out of work, but they do not grumble— they have more important work to do, and plenty of grumbles of .their own. The biggest. grumble is that the manufacturers spoke the truth, but did not sell it. ..Their instructions are icio modest. They must_ have thought that, if they told the whole truth they would
not sell it, They apparently wanted their experiments carried out at the,customer's expense. They got it, but nOt without a grumble.
The stuff works all right we know, otherwise the M.Q.W.T. would not have approved of it. 'Our grumble is that it is too inquisitive—it likes to know how everything else works, it wants to boss the job, and it puts its noie out at all sorts of alarming places. Lift
• your-bonnet and try to reason with it, but don't argu6, or you will hear something like this:—" Didn't know I had a leak in my radiator! How do. you think I gotere and then tunnelled my way out, eh? -It's four years since you checked up this radiator; all you do is to top up with water—tap-water, too. You think that, because you top up your whisky with it, it is good enough for engines. When did you tighten up your hose clips? Never!
Teaching the Lesson
" Don't argue, because iii a few minutes you will learn your lesson. I'll be through those hose connections and be having a ride on your fan; and what then? I'll short your ;plugs and you will have to do something about it. You have appointed me to guide you through the winter, so get those joints taken up, then give me an hoar or so, to settle and I will seal the rest.
" What do you think my brother, ethylene glycol, would have done. He Would not have taken the trouble to tell you. Ire would have got away wherever he could and would have left no trace of his presence, but what a mess you Would havebeen in when Jack Frost called."
Out came the tool-kit and down went , the . bonnet, adjustments baying been attended to.. EnOtigh of that. For one moMeht I had an inclination that, our friend had some close relationship with the stuff On the accumulator terminals., but he assured me that his family were definitely 'alkaline, and that they had little, if any, more objection to metals, in general, than tap. water.
He did tell, me one enlightening thing which gladdened my heart, and that was that he undertook to seal off' all weeps in the cooling system, explain-. lug that he was very practical at the job, although I stillbelieve it is part of his inquisitiveness.
No matter how small a weep, he finds it, and repairs it. Weeps, too, that I never knew I had, for he explained that; when the engine is cold and the metal is in a contracted state, the weep makes up but, on expansion, it opens, the water. exudes and evaporates, so that never could find the leak.
To my satisfaction I also proved that he came of a good family, and did not Corrode. He can be really annoying, though, if he. be left about to get wet. Perhaps his family is also' musical, as I find he makes an excellent conductor
of high-frequency currents. •
I've tried my gadget and I'sre had my thrill. I can now pass it to friend or foe, To my friends I . will tell of my experience, to my foes I. will not, a•nd.if the' manufacturers. will still insist on keeping .quiet, then nothing can prevent me from getting even with a few old scores.'