B.B.C.'s New Recording Vans for Front-line Service
25th February 1944
Page 21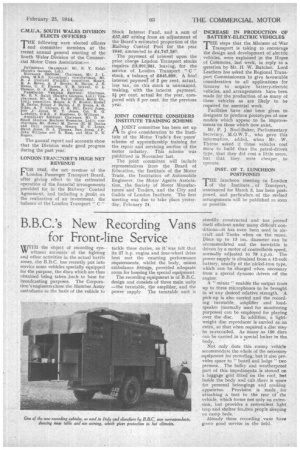 Page 21, 25th February 1944 —
B.B.C.'s New Recording Vans for Front-line Service
Close
ITTITH the object of recording eye witnes3 accounts' of the fighting and other activities in the actual battle zones, -the B.B.C. has recently put into service some vehicles specially equipped for the purpose, the discs which are thus obtained being taken ,back to base for broadcasting purposes. The Corporation's engineers chose the Humber Army ambulance as the basis of the vehicle to
tackle these duties, as itwas felt that its 27 h.p: engine and four-wheel drive best met the exacting performance requirements, whilst the body, minus, ambulance fittings, provided adequate room for housing the special equipment
The recording equipment is of B.B.C. design and consists of three main units —the turntable, the amplifier, and the power supply. The turntable unit is sturdily constructed and has proved itself efficient under many difficult conditions—it has even been used in aircraft and Tanks when on the move. Discs up to 13 ins, diameter can be accommodated and the turntable is driven, bya motor of controllable speed, normally adjusted to 78 r.p.m. The power supply is obtained from a 12-volt battery, usually of the nickel-iron type, which can be charged when necessary from a special dynamo driven off the engine.
A "mixer" enables the output from up to three microphones to be brought in at any desired relative strength. 'A pick-up is also carried and the recording turntable, amplifier and loudspeaker (normally used for monitoring purposes) can be employed for playing
over the disc. In addition, a lightweight disc reproducer is carried as. an extra, so that when required a disc may be re-recorded. As many as 150 discs can be carried in a special locker in the body.
Not only does this roomy vehicle accommodate the whole of the necessary equipment for recording, but it also provides space to " board and lodge " two persons. The bulky and weatherproof part of this impedimenta is stowed on a luggage" grid fitted on the roof, but inside the body and cab there is space for personal belongings and cooking apparatus. Provision is made for attaching a tent to the rear of the vehicle, which forms not only an extension, but provides a convenient light trap and shelter for.two people sleeping on camp beds.' Already these recording vans have given good service in the field.