Passing Comments
25th February 1944
Page 16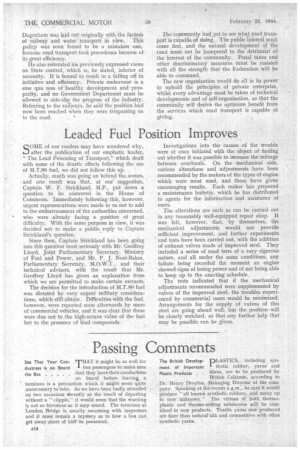 Page 17
Page 16, 25th February 1944 —
Passing Comments
Close
See That Your ConTHAT it might be as well for ductress is on Board bus passengers to make sure the Bus that they have their conductress
on board before leavin& a terminus is a precaution which it might seem quite unnecessary to take. As we have been badly stranded: on two occasions recently as the result of departing without -a "clippie," it would seem that the warning is not so frivolous as it may sound. The terminus at London Bridge is usually swarming with inspectors and it must remain a mystery as to how a bus can get away short of half its personnel. PLASTICS, including synthetic rubber, yarns • and fibres, are to be produced by British Celanese, according to , Dr. Henry Dreyfus, Managing Director of the company, Speaking at the recent a.g.m., he said it would • produce " all known synthetic rubbers, and many up fo now unknown." The virtues of both thermoplastic and thermo-setting substances will be combined in new products. Textile yarns now produced are finer than natural-silk and competitive with other synthetic yarns. The British Development of Important
Plastic Products .
Aids to Engine MainHSEFUL notes concerning tenance in Cold 'el the employment a motor
Weather vehicles during cold weather
have been sent to us by the Champion Sparking Plug Co., Ltd. They should help to maintain an engine at its peak performance. As regards sparking plugs, on cold days moisture is often deposited on the outside and inside, and the insulators should be wiped with a drY cloth to remove this.and dirt. If it still be found difficult to start, remove a plug.. If this be wet on the inside, all the plugs should be taken out and dried bear, a fire. At the same time, 'the gap should be checked and, if necessary, set to the following;—coil, .022-.025 in.; high-voltage coil, .038-.040 in. (unless otherwise stated); magneto, 018-.020 in.; Fordson tractor, .030-.033 in.; International tractor, .028.032 in., except Champion type 44, which should be .035-.040 in Turning the engine with the starting handle several times before switching off will save the battery, which should be maintained in first-class condition, well topped with distilled water and the
lugs greased. A quick rev.-up on starting will scavenge the heads and plugs, getting rid of carbon and surplus moisture. Distributor points should be ' clean and properly spaced; those burnt or pitted should be replaced. As regards oil, it is' important to use the correct light grade recommended for winter.
ECENTLY we published
some amusing examples of errors in typing. In this connection, Hamilton Motors, Ltd., informs us that some time ago it was necessary to write a letter concerning a Gifford coach to seat '32 people. When the letter came for signature, it was phrased: "A gilded couch capable of sleeping 32 people." Of course, this might have proved as popular, as was this make of vehicle at one time. Another correspondent refers us to a speech made by Mr. Lloyd George. In enumerating the horrors of the war of 1914-18, he made mention of "submarines,
poison in the air . . This appeared in one paper as "submarines poisoning the air," and in another as " submarines poised in the air." More Amusing Errors in Typing and Reporting