IK operators already lay exorbitant diesel irices—but with the hreat
24th October 2002
Page 41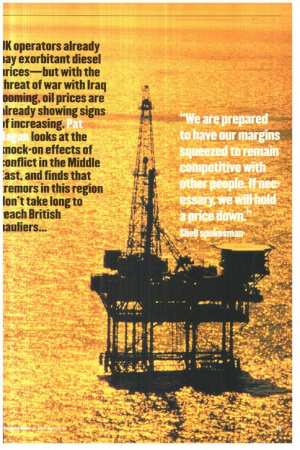 Page 40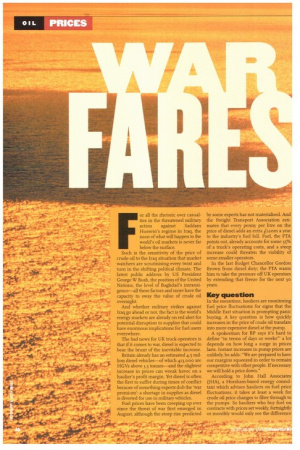 Page 42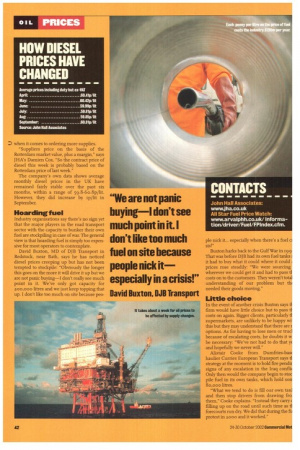 Page 41, 24th October 2002 —
IK operators already lay exorbitant diesel irices—but with the hreat
Close
of war with Iraq ooming, oil prices are heady showing signs if increasing.
looks at the mock-on effects of :onflict in the Middle :ast, and finds that remors in this region lon't take long to each British lauliers...
For all the rhetoric over casualties in the threatened military action against Saddam Hussein's regime in Iraq, the issue of what will happen to the world's oil markets is never far below the surface. Such is the sensitivity of the price of crude oil to the Iraq situation that market watchers are scrutinising every twist and turn in the shifting political climate. The latest public address by US President George W Bush, the position of the United Nations, the level of Baghdad's intransi gence all these factors and more have the capacity to sway the value of crude oil overnight.
And whether military strikes against Iraq go ahead or not, the fact is the world's energy markets are already on red alert for potential disruption to supplies that could have enormous implications for fuel users everywhere.
The bad news for UK truck operators is that if it comes to war, diesel is expected to bear the brunt of the inevitable increase.
Britain already has an estimated 4.5 million diesel vehicles—of which 413,000 are HGVs above 3.5 tonnes—and the slightest increase in prices can wreak havoc on a haulier's profit margin. Yet diesel is often the first to suffer during times of conflict because of something experts dub the 'war premium': a shortage in supplies as diesel is diverted for use in military vehic_les.
Fuel prices have been creeping up ever since the threat of war first emerged in August, although the steep rise predicted by some experts has not materialised. And the Freight Ransport Association estimates that every penny per litre on the price of diesel adds an extra ft zom a year to the industry's fuel bill. Fuel, the FTA points out, already accounts for some 35% of a truck's operating costs, and a steep increase could threaten the viability of some smaller operators.
In the last Budget Chancellor Gordon Brown froze diesel duty; the FTA wants him to take the pressure off UK operators by extending that freeze for the next 30 years.
Key question
In the meantime, hauliers are monitoring fuel price fluctuations for signs that the Middle East situation is prompting panic buying. A key question is how quickly increases in the price of crude oil translate into more expensive diesel at the pump.
A spokesman for BP says it's hard to define "in terms of days or weeks"' a lot depends on how long a surge in prices lasts. Instant increases in pump prices are unlikely, he adds: "We are prepared to have our margins squeezed in order to remain competitive with other people. If necessary we will hold a price down."
According to John Hall Associates (JHA), a Horsham-based energy consultant which advises hauliers on fuel price fluctuations, it takes at least a week for crude oil price changes to filter through to the pumps. So hauliers who buy fuel on contracts with prices set weekly, fortnightly or monthly would only see the difference D when it comes to ordering more supplies. "Suppliers price on the basis of the Rotterdam market value, plus a margin," says IHA's Damien Cox. "So the contract price of diesel this week is probably based on the Rotterdam price of last week."
The company's own data shows average monthly diesel prices in the UK have remained fairly stable over the past six months, within a range of 59S-60.8p/lit. However, they did increase by rp/Iit in September.
iloarchng fuel
Industry organisations say there's no sign yet that the major players in the road transport sector with the capacity to bunker their own fuel are stockpiling in case of war. The general view is that hoarding fuel is simply too expensive for most operators to contemplate.
David Buxton, MD of DJB Transport in Redstock, near Bath, says he has noticed diesel prices creeping up but has not been tempted to stockpile: "Obviously the longer this goes on the more it will drive it up but we are not panic buying—I don't really see much point in it. We've only got capacity for 200,000 litres and we just keep topping that up. I don't like too much on site because peo pie nick it... especially when there's a fuel a sis!"
Buxton harks back to the Gulf War in 199 That was before DJ B had its own fuel tanks it had to buy what it could where it could ; prices rose steadily: "We were sourcing wherever we could get it and had to pass ti costs on to the customers. They weren't total understanding of our problem but thi needed their goods moving."
Little choice
In the event of another crisis Buxton says tl firm would have little choice but to pass ti costs on again. Bigger clients, particularly tl supermarkets, are unlikely to be happy wi this but they may understand that there are r options. As for having to lose men or trucl because of escalating costs, he doubts it w be necessary: "We've not had to do that yt and hopefully we never will."
Alistair Cooke from Dumfries-bas( haulier Curries European Transport says 0 strategy at the moment is to hold fire pendit signs of any escalation in the Iraq confli( Only then would the company begin to stoc pile fuel in its own tanks, which hold son 8o,000 litres.
"What we tend to do is fill our own tan! and then stop drivers from drawing fro them," Cooke explains. 'Instead they carry filling up on the road until such time as tl forecourts run dry. We did that during the fri protest in a000 and it worked.'