BEATING THE THIEVES
24th October 2002
Page 37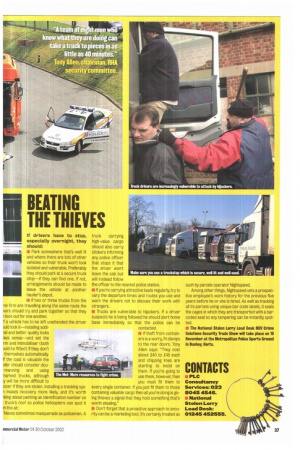 Page 37, 24th October 2002 —
BEATING THE THIEVES
Close
If drivers have to stop, especially overnight, they should:
mai I Park somewhere that's well lit
and where there are lots of other vehicles so their truck won't look isolated and vulnerable. Preferably they should park at a secure truck stop—if they can find one. If not, arrangements should be made to leave the vehicle at another haulier's depot.
• If two or three trucks from the ne firm are travelling along the same route the vers should try and park together so that they I look out for one another.
f a vehicle has to be left unattended the driver )uld lock it—installing addital and better quaky locks .kes sense—and set the rm and immobiliser (both )uld he fitted) if they don't themselves automatically. If the load is valuable the Aker should consider dou-manning and using narked trucks, although will be more difficult to :over if they are stolen. Installing a tracking sysn makes recovery more likely, and it's worth 'king about painting an identification number on truck's roof so police helicopters can spot it m the air.
'hieves sometimes masquerade as policemen. A truck carrying high-value cargo should also carry stickers informing any police officer that stops it that the driver won't leave the cab but will instead follow the officer to the nearest police station.
• If you're carrying attractive loads regularly, try to vary the departure times and routes you use and warn the drivers not to discuss their work with strangers.
• Trucks are vulnerable to hijackers. If a driver suspects he is being followed he should alert home base immediately so that the police can be contacted.
• If theft from containers is a worry, fit clamps to the rear doors. Tony Allen says: "They cost about M to £45 each and shipping lines are starting to insist on them. If you're going to use them, however, then you must fit them to every single container. If you just fit them to those containing valuable cargo then all you're doing is giving thieves a signal that they hold something that's worth stealing."
• Don't forget that a proactive approach to security can be a marketing tool. It's certainly treated as
such by parcels operator Nightspeed.
Among other things, Nightspeed vets a prospective employee's work history for the previous five years before he or she is hired. As well as tracking all its parcels using unique bar code labels, it seals the cages in which they are transported with a barcoded seal so any tampering can be instantly spotted.
• The National Stolen Lorry Load Desk HGV Crime Solutions Security Trade Show will take place on 19 November at the Metropolitan Police Sports Ground in Bushey, Herts.