SETTING THE RECORD STRAIGHT
24th October 2002
Page 20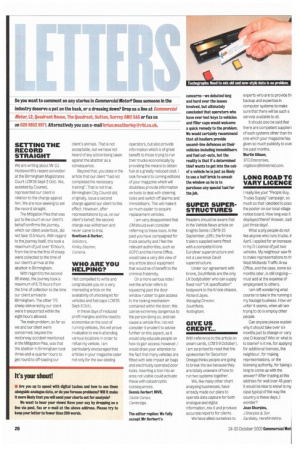 Page 20, 24th October 2002 —
SETTING THE RECORD STRAIGHT
Close
We are writing about Mr DJ Holdswortifs recent conviction at the Birmingham Magistrates Court (CM26 Sept-2 Oct). We, assisted by Counsel, represented our client in relation to the charge against him. We are now seeking to set the record straight.
The Mitigation Plea that was put to the court on our client's behalf confirms the journey, which our client undertook, did not take 13.5 hours. With regard to the journey itself, this took a maximum ofjust over 10 hours, from the time the first 41 sheep were collected to the time of our client's arrival at the abattoir ir Birmingham.
With regard to the second 89 sheep, the journey took a maximum of 8.75 hours from the time of collection to the time our client arrived in Birmingham, The other 170 sheep delivered by our client were transported within the eight hours allowed.
The main problem, as far as we and our client were concerned, beyond the motorway accident mentioned in the Mitigation Plea, was that the abattoir in Birmingham took three-and-a-quarter hours to get round to off-loading our client's animals. That is not acceptable, but we have not heard of any action being taken against the abattoir as a consequence.
Beyond that, you state in the article that our client "had not completed the necessary training". That is not true. Birmingham City Council did, originally, issue a second charge against our client to this effect. However, after representations by us, on our client's behalf, the second charge was withdrawn and never came to trial.
Mattson & Harker, Solicitors, Kirkby Stephen, Cumbria.