Farmer avoids losing 0-licence
24th October 2002
Page 18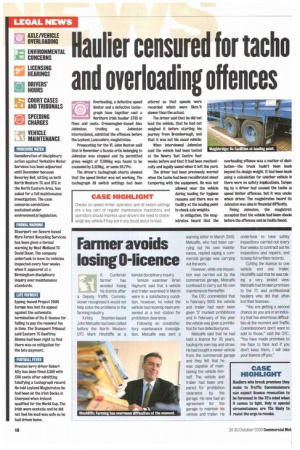 Page 18, 24th October 2002 —
Farmer avoids losing 0-licence
Close
A Cumbrian farmer has avoided losing his licence after a Deputy Traffic Commissioner recognised it would not help solve the problems in the farming industry.
Kirkby Stephen-based John Metcalfe had been called before the North Western DTC Mark Hinchliffe at a Kendal disciplinary inquiry.
Vehicle examiner Brian Hayhurst said that a vehicle and trailer examined in March were in a satisfactory condition. However, he noted the vehicle had recently been presented at a test station for prohibition clearance.
Following an unsatisfactory maintenance investigation, Metcalfe was sent a warning letter in March 2000. Metcalfe, who had been carrying out his own maintenance, replied saying a commercial garage was carrying Out the work.
However, while one inspection was carried out by the commercial garage, Metcalfe continued to carry out his own maintenance thereafter.
The OTC commented that in February 2000 the vehicle and trailer had each been given marked prohibitions and in February of this year the vehicle was given a prohibition for two defective tyres.
Metcalfe said that he had held a licence for 30 years, hauling his own hay and straw. He had bought a newer vehicle from the commercial garage and they felt that he was capable of maintaining the vehicle tunsett The vehicle and trailer had been prepared for prohibition clearance by the garage. He now had an agreement for the garage to maintain his vehicle and trailer. He undertook to have safety inspections carried out every four weeks: to contract out his inspections and repairs; and to keep full written records.
Cutting the licence to one vehicle and one trailer, Hinchliffe said that he was taking a very lenient view. Metcalfe had broken promises to the IC and professional hauliers who did that often lost their licences.
"You are getting a second chance as you are in an industry that has enormous difficulties at the moment and Traffic Commissioners don't want to add to those," said the DTC, "You have made promises to me face to face and if you don't keep them, I will take your licence off you."