AXLE/VEHICLE OVERLOADING ENVIRONMENTAL CONCERNS r p LICENSING HEARINGS COURT CASES AND TRIBUNALS
24th October 2002
Page 18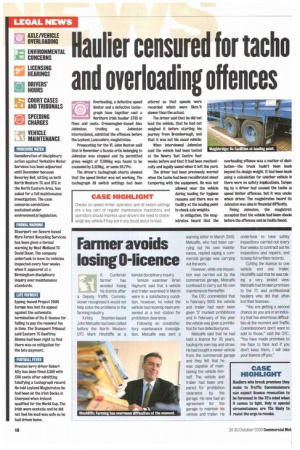 Page 18, 24th October 2002 —
AXLE/VEHICLE OVERLOADING ENVIRONMENTAL CONCERNS r p LICENSING HEARINGS COURT CASES AND TRIBUNALS
Close
TAERM
VEHICLE MAINTENANCE
VOIKSHIRE WATER Consideration of disciplinary action against Yorkshire Water Services has been adjourned until December because Beverley Bell, sitting as both North Western IC and DTC in the North Eastern Area. has asked for a full maintenance investigation. The case concerns convictions sustained under environmental legislation.
Stourport-on-Severn based Wyre Forest Recycling Services has been given a formal warning by West Midland IC David Dixon. The company undertook to have its vehicles inspected every four weeks when it appeared at a Birmingham disciplinary inquiry over maintenance standards.
LATE PAYMENT Epping-based Project 2000 Europe has lost its appeal against the automatic termination of its 0-licence for failing to pay the renewal fee In time. The Transport Tribunal said Eastern IC Geoffrey Simms had been right to find there was no mitigation for the late payment.
FOOTBALL FEWER Preston lorry driver Robert My has been fined £3011 with £80 costs after admitting falsifying a tachograph record. He told Leyland Magistrates he had been on the Irish Docks in Liverpool when Ireland qualified for the World Cup. The Irish were ecstatic and he did not feel his load was safe so he had driven home.