Phone use in focus...
24th October 2002
Page 12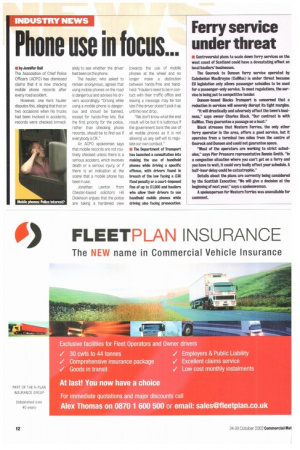 Page 12, 24th October 2002 —
Phone use in focus...
Close
• by 'Jennifer Hall
The Association of Chief Police Officers (ACP0) has dismissed clams that it is now checking mobile phone records after every road accident.
However, one Kent haulier disputes this, alleging that that on two occasions when his trucks had been involved in accidents, records were checked immed. ately to see whether the driver had been on the phone.
The haulier, who asked to remain anonymous, agrees that using mobile phones on the road is dangerous and advises his drivers accordingly: "Driving while using a mobile phone is dangerous and should be banned, except for hands-free kits, But the first priority for the police, rather than checking phone records, should be to find out if everybody is OK."
An ACP° spokesman says that mobile records are not routinely checked unless there is a serious accident, which involves death or a serious injury or if there is an indication at the scene that a mobile phone has been in use.
Jonathan Lawton from Chester-based solicitors Hill Dickinson argues that the police are taking a hardened View
towards the use of mobile phones at the wheel and no longer make a distinction between hands-free and handheld; "Hauliers need to be in contact with their traffic office and leaving a message may be too late if the driver doesn't pick it up until his next drop.
"We don't know what the end result will be but it is ludicrous if the government bans the use of all mobile phones as it is not allowing us any self-will to regulate our own conduct."
I The Department of Transport has launched a consultation into making the use of handheld phones while driving a specific offence, with drivers found in breach of the law facing a £30 fixed penalty or a court-imposed fine of up to £1,000 and hauliers who allow their drivers to use handheld mobile phones while driving also Tuft prIsecution.