Two-stage Hydraulic Master Cylinder
24th November 1944
Page 28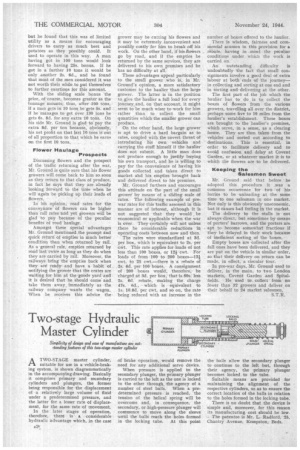 Page 28, 24th November 1944 —
Two-stage Hydraulic Master Cylinder
Close
Simplicity of design and ease of manufacture are out standing features of this two-stage master cylinder ATWO-STAGE master cylinder, suitable for use in a vehicle-braking system, is shown diagrammatically in the accompanying drawing. Basically it comprises primary and secondary cylinders and plungers, the former being responsible for the displacement of a relatively large volume of fluid under a predetermined pressure, and the latter for a lesser rate of displacement, for the same rate of movement.
In the later stages of operation, therefore, 'there is" a considerable hydraulic advantage which, in the case of brake operation, would remove the need for any additional servo device.
When pressure is applied to the secondary plunger, the primary plunger is carried to the left as the one is locked to the other through the agency of a number of steel balls. When a predetermined pressure is reached, the tension of the helical spring will be overcome and, in consequence, the secondary, or high-pressure plunger will commence to move along the sleeve -until the balls reach the holes farmed
in the locking tube, At this point the balls allow the secondary plunger to continue to the left but, through their agency, the primary plunger becomes locked to the tube.
Suitable means are provided for maintaining the alignment of the respective cylinders, so as to ensure the correct location of the balls in relation to the holes formed in the locking tube.
There is no doubt that the device is simple and, moreover, for this reason its manufacturing cost should be low.
The ,patentee is-Mr. L. Radford, 25, Chantry Avenue, Kempston, Beds.