A Model Repair Organization Dennis Veterans Still Going Strong
24th November 1944
Page 20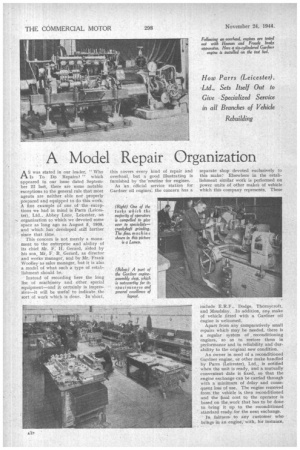 Page 21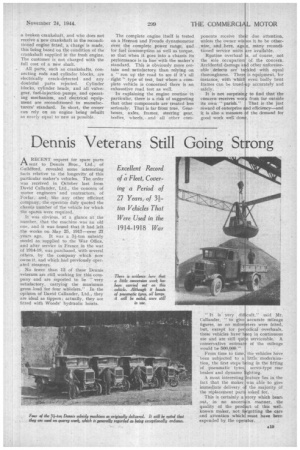 Page 20, 24th November 1944 —
A Model Repair Organization Dennis Veterans Still Going Strong
Close
AS was stated in our leader, " Who Is To Do Repairs? " which appeared in our issue dated September 22 last, there are some notable exceptions to the general rule that most agents are neither able no properly prepared and equipped to do this work. A fine example of one of the exceptions we had in mind is Parrs (Leicester), Ltd., Abbey Lane, Leicester, an
--. organization to which we devoted some space as long ago as August 5, 1938, and which has developed still further since that time.
This concern is not merely a monument to the enterprise and ability of its chief Mr. F. H. Gerard, aided by his son, Mr, F. R. Gerard, as director and works manager, and by Mr, Frank Woolley.as sales manager, but it is also a model of what such a type of establishment should be.
Instead of recording here the long list of machinery and other special equipment—and it certainly is impressive—it will be useful to indicate the sort of work which is done. In short, this covers every kind of repair and overhaul, but a good illustration is furnished by the 'routine for engines.
As an official service station for Gardner oil engines; the concern has a separate shop devoted exclusively to this make Elsewhere in the establishment similar work is performed on power units of other makes of vehicle which this company represents. These include E.R.F., Dodge, Thornycroft, and Maudslay. In addition, any make of vehicle fitted with a Gardner oil engine is welcomed.
Apart from any comparatively small repairs which. may be needed, there is a regular system of , reconditioning engines, so as to restore them in performance and in reliability and durability to the original new condition.
An owner in need of a reconditioned Gardner engine, or other make handled by Parrs (LeiCester), Ltd., is notified when the unit is ready, and a mutually convenient date is fixed, so that the engine exchange can be carried through with a minimum of delay and consequent loss of use. The engine removed from the vehicle is then reconditioned and the final cost to the operator is based on the.work that has to be done to bring it up to the reconditioned standard ready for the next exchange.
In fairnessto any customer who brings in an engine, with, for instance,
ARECENT request for spare parts sent to Dennis Bros., Ltd.. of Guildford, revealed some interesting facts relative to the longevity of this particular maker's vehicles. The order was received in October last from David Callander, Ltd., the concern of motor engineers' and contractors, of Forfar. and, like any other efficient company. the operator duly quoted the chassis number of the vehicle for which the spares were required.
It was obvious, at a glance at the number, that the machine was an old one, and it was found that it had left the works on May 25, 1917—over 27 years ago. It was a 31-ton subsidy model as supplied to the War Office, and after service in France in the war of 1914-1S, was purchased, with several others, by the company which now owns it, and which had previously operated steamers.
. No fewer than 12 of these Dennis veterans are still working for this company and are reported to be "very satisfactory, carrying the maximum gross load for four wheelers." In the opinion of David Callander, Ltd., they are ideal as tippers; actually, they are fitted with Woods' hydraulic hoists. " It is very dificult," said Mr. Callander, " to give accurate mileage figures, as no milorreters were fitted, but, except for per odical overhauls, these vehicles have been in continuous use and are still qui ;e serviceable. A conservative estimate of the mileage would be 500,000."
From time to time, the vehicles have been subjected to a little modernization, the first steps being in the fitting of pneumatic tyres, servo-type rear brakes and dynamo righting.
A most interesting feature lies in the fact that the maker was able to give immediate delivery of the majority of the replacement part: asked for.
This is certainly a story which bean out, in no •uncert....in manner, the quality of the prod set of this wellknown maker, not forgetting the care and attention which must have been expended by the operator. •