Passing Comments
24th November 1944
Page 14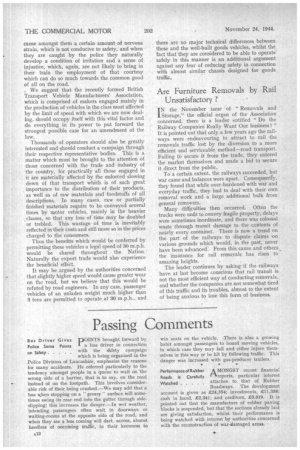 Page 15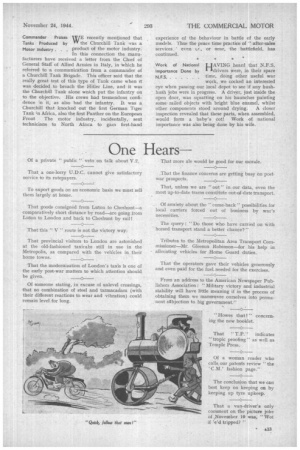 Page 14, 24th November 1944 —
Passing Comments
Close
POINTS brought forward by 1 a bus driver in connectiOn with the skfety campaign which is being organized in the Police Division of Lancashire, emphasize the reasons for many accidents. He referred particularly to the tendency amongst people in a queue to wait on The wrong side of a barrier, that is to say, on the road instead of on the footpath. This involves considerable risk of their being crushed.—We may add that a bus when stopping on a " greasy " surface will sometimes swing its rear end into the gutter through sideslipping; this increases the danger.—In wet weather, intending passengers often wait in doorways or waiting-rooms at the opposite side of the road, and when they see a bus coming will dart, across, almost heedless of oncoming traffic, in their keenness to
£1.2 Bus Driver Gives Police Some Points on Safety win seats on the vehicle. -There is also a growing habit amongst passengers to board moving vehicles, in which case they may fall and either injure themselves in this way or be hit by following traffic. This danger was increased with gas-producer trailers. *
Performanceof Rubber A MONGST recent financial Roads is Carefully 2-1 reports, particular interest
Watched attaches to that of Rubber Roadways. The development account is given as R24,554; investments, 211,338; cash in hand, 42,341; and creditors, 23,819. It is pointed out that the manufacture of rubber paving blocks is suspended, but .that the sections already laid are giving satisfaction, whilst their performance is being watched with interest by authorities concerned with the reconstruction of war-damaged areas. WE recently mentioned that IT the Churchill Tank was a product of the motor industry. In this connection the manufacturers have received a letter from the Chief of General Staff of Allied Armies in Italy, in which he referred to a communication from a commander of a Churchill Tank Brigade. This officer said that the really great test of this type of Tank came when it was decided to breach the Hitler Line, and it was the Churchill Tank alone wnich put the infantry on to the objective. His crews had tremendous confidence in it, as also had the infantry. It was a Churchill that knocked out the first German Tiger Tank in Africa, also the first Panther on the European Front The motor industry, incidentally, sent technicians to North Africa to gain first-hand
Commander Praises Tanks Produced by
Motor Industry . .
experience of the behaviour in battle of the early models. ThuF the peace time practice of "after-sales services, ' even or near, the battlefield, has continued.
Work of National WAVING heard that N.F.S.
Importance Done by Idrivers were, in their spare
N.F.S. time, doing other useful war work, we cocked an interested eye when passing our local depot to see if any hushhush jobs were in progress. A driver, just inside the open door, was squatting on his haunches painting some. railed objects with bright blue enamel, whilst other components stood around drying. A closer inspection revealed that these parts, when assembled, would form a baby's cot! Work of national importance was also being done by his wife.