Keeping Works Busy Up to Their Capacity
24th March 1944
Page 36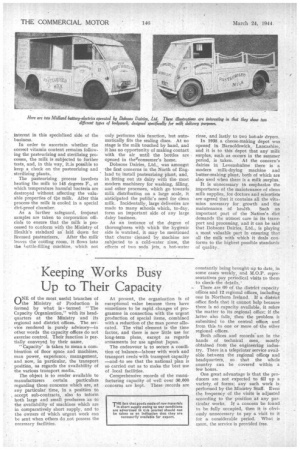 Page 36, 24th March 1944 —
Keeping Works Busy Up to Their Capacity
Close
ONE of the most useful branches of the Ministry of Production is formed by what is termed "The Capacity Organization," with its headquarters at the Ministry and its regional and district offices. The ser'. vice rendered is purely advisory—in other words the capacity offices do not exercise control. Their function is partially conveyed by their name.
"Capacity' is taken to mean a combination of floor space and machines, man power, experience, management, and now, in particular, the transport position, as regards the availability of the various transport media.
rise object is to render available to manufacturers certain particulars regarding those concerns which are, at any particular time, in a position to , accept sub-contracts, also to inform both large and small producers as to the availability of machines which are in comparatively short supply, and to the owners of which urgent work can be sent when others do not possess the ' necessary facilities: At present, the organization is of exceptional value because there have sometimes to be rapid changes of programme in connection with the urgent production of special items, combined with a reduction of the man power allocated. The vital element is the time factor, and there is now little use for long-term plans,, except as regards armaments for use against Japan.
The endeavour is to secure a condition of balance—labour with work and transport needs with transport capacity —and do see that the national plan is so carried out as to make the best use of local facilities.
Comprehensive records of the mantis facturing capacity of well over 30,000 concerns are kept. These records are constantly being brought up to date, in some cases weekly, and MOP. representatives pay periodical visits to them to check-the details,' There are (Al of the district capacity offices and 12 regional offices, including one in Northern Ireland. If a district office finds that it cannot help because there is nO capacity available, it refers the matter to its regional office; if the latter also fails, then the problem is submitted to the central offices, and from this to one or more of -the other regional offices. • .
Both Offices and records are in the hands of technical men, mostly obtained from the engineering industry. There is a teleprinter service available between the regional offices and headquarters, so that the whole country can be covered within a fevis hams.
One great advantage is that the producers are not expected to fill up a variety, of forms; any such work is performed by the Ministry Staff. Even the frequency of the visits is adjusted according to the position at any particular works, If a concern be found to be fully occupied, then it is obviously unnecessary to pay a visit to it for a considerable period. What is more, the service is provided free.