M.P.s Resent Commissioner's Action
24th March 1944
Page 23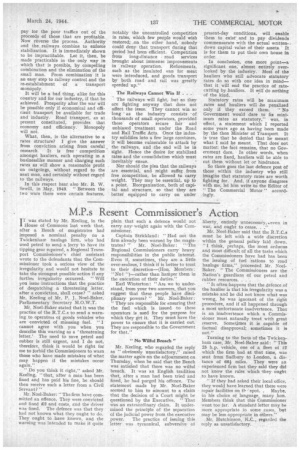 Page 23, 24th March 1944 —
M.P.s Resent Commissioner's Action
Close
Keywords :
I T was stated by Mr. Keeling, in the House of Commons last week that, after a Bench of magistrates had imposed a nominal penalty on a Twickenham haulage firm, who had used petrol to send a lorry to have its tipping gear repaired, a Regional Transport Commissioner's chief assistant wrote to the defendants that the Commissioner took a serious view of the irregularity and would not hesitate to take the strongest possible action if any furthei irregularity occurred. "Will you issue instructions that the practice of despatching a threatening letter, after a conviction, shall cease? " asked Mr. Keeling of Mr. P. J. Noel-Baker, Parliamentary Secretary M.O.W.T.
Mr. Noel-Baker stated that it was the practice of the R.T.C.s to send a warning to operatois of goods vehicles who are convicted of misusing fuel. " cannot agree with you when you describe this warning as a 'threatening letter.' The need to save petrol and rubber is still urgent, and I do not, therefore, think it would be right for me to forbid the Commissioners to warn those who have made mistakes of what may happen if the mistakes occur again." , " Do you think it right," asked Mr, Keeling, "that, after a man has been fined and has paid his fine, he should then receive such a letter from a Civil Servant? "
Mr. Noel-Baker: "The firm have committed an offence. They were convicted and fined £2 and costs, and the driver was fined. The defence was that they had not known what they ought to do. They ought to have known, and the warning was intended to make it quite plain that such a. defence would not carry any weight again with the Commissioner.
Captain Strickland: "Had not the firm already been warned by the magis
trates? " Mr. Noel-Baker: ",The Regional Commissioners carry heavy responsibilities in the public interest. Even if, sometimes, they are a little over-zealous, I think if is better to trust to their discretion—(Hon. Members : "No t ")—rather than haniper them in the execution of their duties."
Earl Winterton: "Are we to understand, from your two answers, that you suggest that these people have disciplinary powers? " Mr. Noel-Baker: " They are responsible for ensuring that the fuel which is issued to these operators is used for the purpose for which they get it. They must have the power to ensure that it is carried out. They are responsible to the Government for that."
"No Wilful Breach"
Mr_ Keeling, who regarded the reply as "obviously unsatisfactory," raised the matter again on the adjournment an Thursday, when he said that the Bench was satisfied that there was no wilful breach. It was an English tradition that, after a man had been tried and fined, he had purged his offence, -The statement made by Mr. Noel-Baker seemed to him to amount to a claim that the decision of a Court might be questioned by the Executive. " That was s.n extraordinary claim. It undermined the principle of the separation of the judicial power from the executive power. The practice of issuing this letter was tyrannical, subversive Of liberty, entirely unnecessary,,. even in war, and ought to cease. . ."
Mr. Noel-Baker said that the R.T.C.s must be left with a wide discretion within the general policy laid down. "I think, perhaps, the most arduous and most difficult of all the tasks which the Commissioners have had has been the issuing of fuel rations to road haulage firms," proceeded Mr. NoelBaker. " The Commissioners are the Nation's guardians of our petrol and rubber resources. . . .
"It often happens that the defence of the haulier is that his irregularity was a mistake and he did not know what was wrong, he was ignorant of the right procedure, and if all happened through a most unfortunate inadvertence. That is an inadvertence which a Commissioner must naturally treat with great reserve. Sometimes it is capable of factual disapproval; sometimes it is not."
Turning to the facts of the Twickens ham case, Mr. Noel-Baker said: " This 25 h.p. vehicle, one of a fleet of 12 which the firm had at that time, was sent from Sudbury to London, a distance of 68i miles. They were an experienced firm but they said they did not know the rules which 'they ought to have known.
" If they had asked their local office, they would have learned that there were
repair facilities on ti' 'spot. . Maybe, in his choice of language, many hon. Members think that this Commissioner went too far. A standard letter may be more appropriate in some cases, but may be less appropriate in others."
Mr, Hutchinson, K.C., regarded the reply as unsatisfactory,