Municipality Adds More Karriers to Its Trolleybus Fleet
24th March 1944
Page 21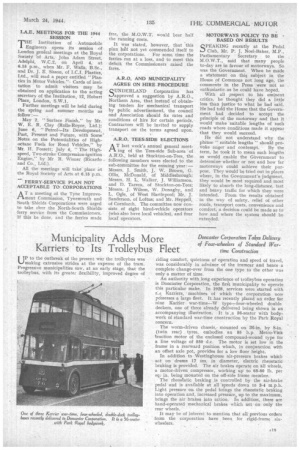 Page 21, 24th March 1944 —
Municipality Adds More Karriers to Its Trolleybus Fleet
Close
UP to the outbreak of the present war the trolleybus was making extensive strides at the expense of the tram. Progressive municipalities saw, at an early stage, that the trolleybus, with its greater flexibility, improved degree of
riding comfort, quietness of operation and speed of travel, was considerably in advance of the tramcar and hence -a complete change-over from the one type to the other was only a matter of time.
An authority with long experience of trolleybus operation is Doncaster Corporation, the fidt municipality to operate this particular make. In 1928, services were started with SIA Karriers, machines of which the corporation now pdssesses a large fleet. It.has recently placed an order for nine Karrier war-time—W type—four-wheeled double deckers, one of three already delivered being shown in an accompanying illustration. It is ,a 56-seater with bodywork of standard war-time construction by the Park Royal concern.
The worm-driven chassis,. mounted on 36-in. by 8-in. (twin rear) tyres, embodies an 85 h.p. Metro-Vick traction motor of the enclosed compound-wound type for a line voltage of 550 dc. The motor is set low in the frame in a rearward position which, in conjunction with an offset axle pot, provides for a low floor height.
In addition to Westinghouse air-pressure brakes which act on drums 17 iris, in diameter, electric rheostatic braking is provided. The air brakes operate on all wheels, a motor-driven compressor, working up to 135-80 lb, per sq. in. being mounted on the off-side frame member. The rheos1atic braking is controlled by the air-brake pedal and is available at all speeds down to 3-4 m.p.h. Light pressure on the pedal brings the rheostatic brakiug into operation and, increased pressure, up to the maximum, brings the air brakes into action. In addition, there are hand-operated , mechanical brakes which act on only the rear wheels. • It may be of interest to mention that all previous orders frem the corporation have been for rigid-frame sixWheelers.