One Hears—
24th March 1944
Page 17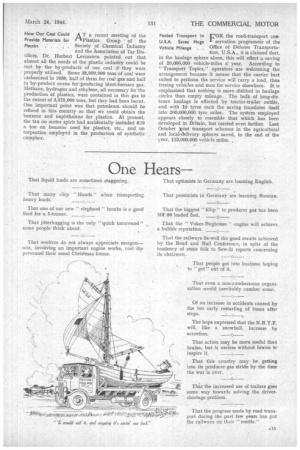 Page 17, 24th March 1944 —
One Hears—
Close
That liquid loads are sometime S staggering.
That many clap "Hands" when transporting heavy loads.
That one of our new " elephant " bombs is a good road for a 5-tonner. 0 That jitterbugging is the only "quick turnround " some people think about.
That workers do not always appreciate mergers-one, involving an important engine works, cost -the personnel their usual Christmas bonus. That optimists in Germany are learning English.
That pessimists in Germany are learning Russian.
That the biggest "fillip" to producer gas has been NI3.80 leaded fuel.
That the " Vokes-Bughouse " engine will achieve a bubble reputation. 0 That the railways Se-well the good results achieved by the Road and Rail Conference, in spite of the tendency of some folk to Sew-ill reports concerning its chairmen.
That people get into business hoping to " get " out of it.
That even a non-cumbersome organization would inevitably cumber some.
Of an increase in accidents caused by the too early restarting of buses after stops.
The hope expressed that the N.R.T.F. will, likea snowball, increase by accretion.
That action may be more useful than brains, but is useless without brains te inspire it. 0 That this country may be getting into its producer-gas stride by the time the war is over. , That the increased use of trailers goes
%"•t•eit-some way towards solving the drivershortage problem.
That the progress made by road transport during the past few years has put the railways On their "mettle."