Passing Comments
24th March 1944
Page 16
Page 17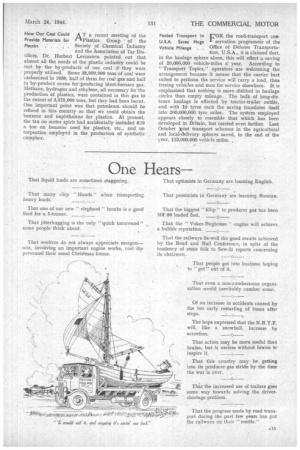 Page 16, 24th March 1944 —
Passing Comments
Close
Britain and Germany1 JERE in Britain the Minister are Advertising for 1 I of Labour is calling for
Drivers . more drivers of lorries and
buses, likewise in Germany, according to the "Daily Telegraph," there is a distinct shortage, and men, old and young, in Germany and in the occupied countries are being asked to volunteer to drive. Many of the intricate filing arrangements in industrial _centres have apparently been destroyed by bombing, and some German men who could drive have been able to disappear for weeks at a time. Lorry driving behind the Atlantic wall does not seem to be popular, as bombing is making it a most dangerous job. Even the unfit, if able to climb into a driver's seat, can now qualify as drivers.
A Worker's Dls1CISYCHOLOGY plays quite a traction Overcome by I large part in dealing with Dark Glasses . . . the personnel of works, etc.
In this connection, an interesting and rather amusing incident which occurred at a certain works was brought to our notice recently. A man operating a machine tool and engaged on accurate work requiring rather meticulous attention, was found to be producing a somewhat excessive proportion of parts which would not pass the inspectors. Investigation showed that this had taken place only since a fascinating blonde had been stationed -on another machine in front of him. It was, therefore, apparent that it was the straying of his attention from his machine that was eausing the trouble. The cure was an unusual one. It was to equip him with glasses which, whilst they permitted a clear view of the work upon which he Was engaged, had the effect of at least partially obscuring the source of his distraction.
A REPORT in " Transport " of December 20 refers to the possibility of America's almost inexhaustible coal supply being partially converted into fuels for motor vehicles and heating, in order to overcome tha possibility of a future severe shortage of petroleum. The Research Foundation of the Armour Institute of Technology, Chicago, is Making tests with such fuels for motor engines. It is also stated to have developed a simple process of coal pulverization by internal expansion, the coal being exploded by high-pressure stream to make a fuel which is free of ash and sulphur. What is known as " liquefied coal" can be made cheaply by passing finely crushed or exploded coal through a colloid mill, with oil or coal constituents of the desired fluidity, making it suitable as a fuel for heating and for i.c. engines. America Experimenting with Liquid Fuels Made from Coal . .
How Our Coal Could Provide Materials for Plastics
AT a recent meeting of the Plastics Group ' of the Society of Chemical Industry and the-Association of Tar Distillers, Dr. Herbert Levinstein pointed out that almost all the needs of the plastic industry could be met by the by-products of our coal ifthey were properly utilized. Some 38,000,000 tons of coal were carbonized in 1938, half of them for coal gas and half in by-product ovens for ;producing blast-furnace gas. Methane, hydrogen and ethylene,all necessary for the production of plastics, were contained in this gas to the extent of 3,575,000 tons, but they had been burnt. One important point was that petroleum• should be refined in this country so that we could obtain the benzene and naphthalene for plastics. At present, the tax on motor spirit had accidentally included £10 a ton on benzene used for plastics, etc., and on turpentine employed in the production of synthetic camphor. FOR the road-transport conservation programme of the Office of Defense Transportation, U.S.A., it is claimed that, in the haulage sphere alone, this will effect a saving of 20,000,000 vehicle-miles a. year. According to " Transport Topics," operators are welcoming the arrangement because it means that the carrier best suited to perform the service will carry a load, thus freeing vehicles and men for service elsewhere. It is emphasized that nothing is more disliked in haulage circles than empty mileage. The bulk of long-distance haulage is effected by tractor-trailer outfits, and with 10 tyres each the saving translates itself into 200,000,000 tyre miles. The system employed appears closely to resemble that •which has been developed in Britain, but carried even farther. Last October pint transport schemes in the agricultural and local-dclivery spheres saved, to the end of the year, 112,000,000 vehicle miles. ,
Pooled Transport in U.S.A. Saves Huge Vehicle Mileage .