Eom Drivers Mechanics We pay for contributions on this page
24th June 1915
Page 27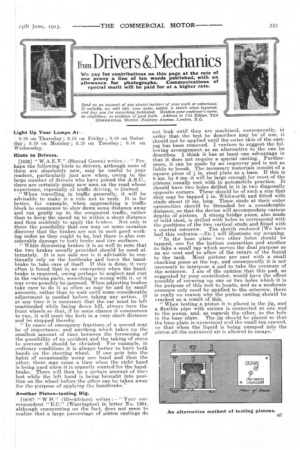 Page 27, 24th June 1915 —
Eom Drivers Mechanics We pay for contributions on this page
Close
at the rate of one penny a line of ten words published, with an allowance for photographs. Communications of special merit will be paid for at a higher rate.
Send us an account of any special incident of your work or experience. If suitable, we will edit your notes, suPPly a sketch when required, and pay you for everything published. Mention your employer's nanse, in confidence, as evidence of good faith. Address to The Editor, THE COMMERCIAL MoroR, Rosebery Avenue, London, E.G.
Light Up Your Lamps At — 9.19 on Thursday ; 9.19 on Friday ; 9.19 on Saturday; 9.19 on Monday ; 9.19 on Tuesday ; 9.18 on Wednesday.
Hints to Drivers.
[1639] " W.A.E.Y." (Stroud Green) writes :—" Perhaps the following hints to drivers, although none of them are absolutely new, may be useful to your readers, particularly just now when, owing to the large number of drivers who have joined the A.S.C., there are certainly many new men on the road whose experience, especially of traffic driving, is limited. When travelling in traffic generally, it will be i
advisable to make t a rule not to rush. It is far better, for example, when approaching a traffic block to commence to slow down some distance away and run gently up to the congested traffic, rather than to keep the speed up to within a short distance and then suddenly to apply the brakes. Not only is there the possibility that one may on some occasion discover that the brakes are not in such good working order as they ought to be, hut there is also considerable damage to both brake and tire surfaces. "While discussing brakes it is as well to note that the two brakes usually provided should be used alternately. It is not safe nor is it advisable to continually rely on the footbrake and leave the handbrake to take care of itself. If this is done, it very often is found that in an emergency when the handbrake is required, owing perhaps to neglect and rust in the various parts, something is wrong with it, or it may even possibly be jammed. When adjusting brakes take care to do it as often as may be and by small amounts, rather than to wait until some considerable adjustment is needed before taking any action. If at any time it is necessary that the car must be left unattended while facing down hill, always turn the front wheels so that, if by some chance it commences to run, it will meet the kerb in a very short distance and be stopped thereby. " In cases of emergency fractions of a second may be of importance, and anything which takes up the smallest amount of time between the foreseeing of the possibility of an accident and the taking of stens to prevent it should be obviated. For example, in ordinary conditions it is always better to have both hands on the steering wheel. If one gets into the habit of occasionally using one hand and then the other, there may come a time when the right hand is being used when it is urgently wanted for the handbrake. There will then be a certain amount of titre lost while the left hand is being brought into position on the wheel before the other can be taken away for the purpose of applying the handbrake."
Another Piston-testing Rig.
[16401 "W F." (Blwrkfriars) writes :—" Your correspondent " KC." (Warrington) in letter No. 1364, although commenting on the fact, does not seem to realize that a large percentage of piston castings do
not leak until they are machined, consequently, in order that the test he describes may be of use, it should not be applied until the outer skin of the casting has been removed. I venture to suggest the following arrangement as an alternative to the one he describes. I think it has at least one, advantage in that it does not require a special casting. Furthermore, it can be made by an improver and is not so liable to break. The necessary materials consist of a square piece of in. steel plate as a base. If this is 6 ins. by 6 ins. it will be large enough for most of the pistons usually met with in automobile practice. It should have two holes drilled in it in two diagonally opposite corners. These should be of such a size that they may be tapped in. Whitworth and fitted with studs about 10 ins. long. These studs at their outer extremities should be threaded for a considerable distance, so that the device will accommodate various depths of pistons. A strong bridge piece, also made of mild steel, is drilled with holes to correspond with the positions of the two vertical studs and fitted with a central setscrew. The sketch enclosed [We have had this redrawn.—En.] will illustrate my meaning.
"In the base plate two other holes should be tapped, one for the bottom connection and another to take a small tap which serves the dual purpose as an air vent and to allow of the return of the liquid to the tank. Most pistons are cast with a small chucking piece at the top, and consequently it is not necessary to interpose a pad to take the nressure of the setscrew. I am of the opinion that this pad, as suggested by your contributor, would have the effect possibly of covering up one or two holes which it is the purpose of this test to locate, and as a, moderate pressure only need be applied to the setscrew, there is really no reason why the piston casting should be cracked as a result of this.
" When testinga piston it is placed in the jig, and a flexible pipe with unions is connected at one end to the pump, and, as regards the other, to the Role in the base plate. The jig should be placed so that the base plate is uppermost and the small tap opened, so that when the liquid is being pumped into the Won all the contained air is allowed to escape."