£5000 "Campaign Comforts' Fund,
24th June 1915
Page 24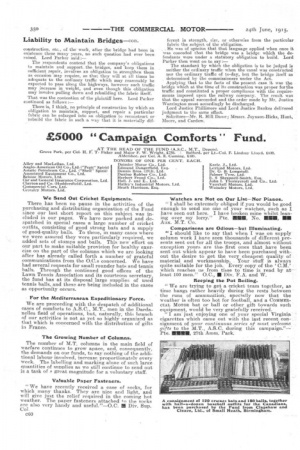 Page 24, 24th June 1915 —
£5000 "Campaign Comforts' Fund,
Close
, AT THE HEAD OF THE FUND (A.S.C., M.T., Depots).
Grove Park, per Col. H. F. T. Fisher and Major F. W. Wright. £750. I Wilford, per Lt.-Col. F. Lindsay Lloyd, £630, Aldershot, per Col. A. E. Cuming, £10.5.
We Send Out Cricket Equipments.
There has been no pause in the activities of the purchasing and distributing organization of the Fund since our last short report on this subject was included in our pages. We have now packed and despatched in special eases a large number of cricket outfits, consisting of good strong bats and a supply of good-quality balls. To these, in many eases where we were assured they were particularly required, we added sets of stumps and bails. This new effort on our part to make suitable provision for healthy exercise on the part of the columns which we are looking after has already called forth a number of grateful communications from the 0.C.s concerned. We have had several requests for small rounder bats and tennis balls. Through the continued good offices of the Lawn Tennis Association and its courteous secretary, the fund has at its disposal large supplies of used tennis balls, and these are being included in the eases as opportunity occurs.
• For the Mediterranean Expeditionary Force.
We are proceeding with the despatch of additional cases of comforts to A.B.C.' M.T.. men in the Darda
nelles but, field of operations, ut, naturally, this branch of our activities is not as yet so highly organized as that which is concerned with the distribution of gifts in France.
The Growing Number of Columns.
The number of M.T. columns in the main field of warfare continues to grow apace, and, consequently, the demands on our funds, to say nothing of the additional labour involved, increase proportionately every week. The labelling and marking alone of such large quantities of supplies as we still continue to send out is a task of a great magnitude for a voluntary staff.
Valuable Paper Fasteners.
"We have recently received a case of socks, for which many thanks. They are nice and light, and will give just the relief required in the coming hot weather. The paper fasteners attached to the socks are also very handy and useful."—O.C. • Div. Sup. 0-oh 000 Watches are Not on Our List—Nor Pianos.
"I shall be extremely obliged if you would be good enough to send me one of your watches, such as I have seen out here. I have broken mine whilst leaning over my. lorry." Pte. MEM, No. Mil, M• Aux. M.T. Co.
Comparisons are Odious—but Illuminating.
"I should like to say that when I was on supply column work I have seen thousands of different precents sent out for all the troops, and almost without exception yours are the. first ones that have been sent out which appear to have been purchased without the desire to get the very cheapest quality of material and workmanship. Your stuff is always quite suitable for the job. Every copy of the 'C.M.' which reaches us from time to time is read by ' • least 100 men." 0.0., • Div. F.A. and W.
Keeping the Pot Boiling.
"We are trying to get a cricket team together, as time hangs rather heavily during the rests between the runs of ammunition, specially now that the weather is often too hot for football, and a COMMERCIAL IVIonia bat or ball or other gift towards such equipment, would be very gratefully received. I am' just enjoying one of your special Virginia cigarettes which came out with the last recent consignment of your continuous series of most welcome. gifts to the M.T., A.S.C. during this campaign."— Pte. MENU, 27th Amen. Park.