A 200 h p. Tylor reversible petrol engine.
24th June 1915
Page 20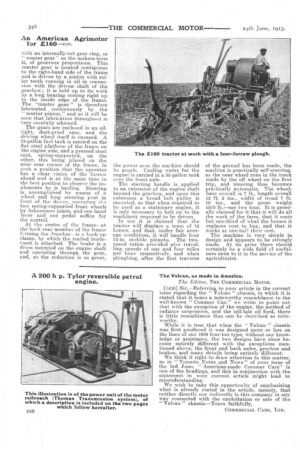 Page 20, 24th June 1915 —
A 200 h p. Tylor reversible petrol engine.
Close
The Vulcan, as made in America.
The Editor, THE COMMERCIAL MOTOR.
11435] Sir,—Referring to your article in the current issue regarding the " Vulcan " chassis, in which it is stated that it bears a noteworthy resemblance to the well-known " Cornmer Car," we write to point out that with the exception of the engine, the method of radiator suspension, and the tell-tale oil feed, there is little resemblance that can be described as noteworthy.
While it is true that when the "'Vulcan " chassis was first produced it was designed more or less on the lines of our 1909 four-ton type, without our knowledge or assistance, the two designs have since become entirely different with the exceptions mentioned above, the front and back axles, gearbox and brakes, and many details being entirely different.
We think it right to draw attention to this matter, as in "Toronto Notes and News" of your issue of the 3rd June, " American-made Commer Cars" is one of the headings, and this in conjunction with the statement in your current •article night lead to misunderstanding.
We wish to -take this opportunity of emphasizing what is already stated in the article, namely, that neither directly nor indirectly is this company in any way connected with the exnloitation or sale of the "Vulcan " chassis.—Yours faithfully,
COMMERCIAL CARS, LTD.