One Hears
24th June 1915
Page 2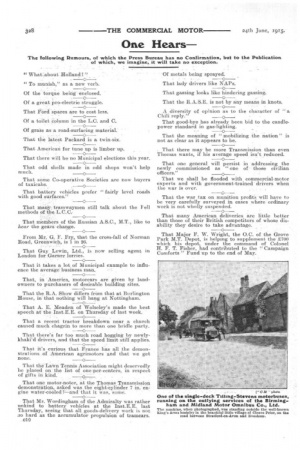 Page 2, 24th June 1915 —
One Hears
Close
The following Rumours, of which the Press Bureau has no Confirmation, but to the Publication of which, we imagine, it will take no exception.
" What about Holland?"
"To munish," as a new verb.
Of the torque being enclosed. Of a great pro-electric struggle.
That Ford spares are to cost less.
Of a toilet column in the L.C. and C.
Of grass as a road-surfacing material.
That the latest Packard is a twin-six.
That American for tune up is limber up.
That there will be no Municipal elections this year.
That odd shells made in odd shops won't help much.
That some Co-operative Societies are now buyers of taxicabs.
That battery vehicles prefer "fairly level roads with good surfaces."
That many tramwaymen still talk about the Fell methods of the, L.C.C.
That members of the Russian A.S.C., M.T., like to hear the geArs" change.
From Mr. G. F. Fry, that the cross-fall of Norman Road, Greenwich, is 1 in 26.
That Guy Lewin, Ltd., is now selling agent in London for Garner lorries.
That it takes a lot of Municipal example to influence the average business man.
That, in America, motorcars are given by landowners to purchasers of desirable building sites.
That the R.A. Show differs from that at Burlington House, in that nothing will hang at Nottingham.
That A. E. Meaden of Wolseley's made the best speech at the Inst.E.E. on Thursday of last week.
That a recent tractor breakdown near a church caused much chagrin to more than one bridle party.
That there's far too much road hogging by newlykhaki'd drivers, and that the speed limit still applies.
That it's curious that France has all the demonstrations DI American agrimotors and that we get none. 0 That the•Latvn Tennis Association might deservedly be placed on the list of one-per-centers, in respect of gifts in kind That one motor-noter, at the Thomas Transmission demonstration, asked was the eight-cylinder 7 in. engine water-coaled ?and that it was, some.
That Mr. Wordingham of the Admiralty was rather unkind to battery vehicles at the Inst.E.E. last Thursday, seeing that all goods-delivery work is not 30 hard as the accumulator propulsion of tramcars. o3.0 • Of metals being sprayed That lady drivers like NAPs.
That gassing looks like hindering gassing.
That the R.A.S.E. is not by any means in knots.
A diversity of opinion as to the character of " a Chili reply.' 0 • That good-bye has already been bid to the candlepower standard in gas-lighting.
That the meaning of "mobilizing the nation" is not as clear as it appears to be.
. That there may be more Transmission than even Thomas wants, if his average speed isn't reduced.
That one general will persist in addressing the newly commissioned as one of thoSe civilian officers." 0 That we shall be flooded with commercial-motor experts and with government-trained drivers when the war is over.
That the war tax on munition prat's will have to be very carefully surveyed in cases where ordinary work is not wholly suspended.
That many American deliveries are little better than those of their British competitors of whose disability they desire to take advantage.
That Major F. W. Wright, the 0.C. of the Grove Park M.T. Depot, is helping to supplement the 1700 which his depot, under the command of Colonel H. F. T. Fisher, had contributed to the " Campaign Comforts" Fund up to the end of May.