The Wheels of Industry.
24th June 1915
Page 16
Page 17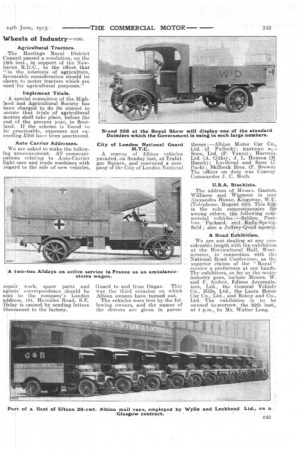 Page 18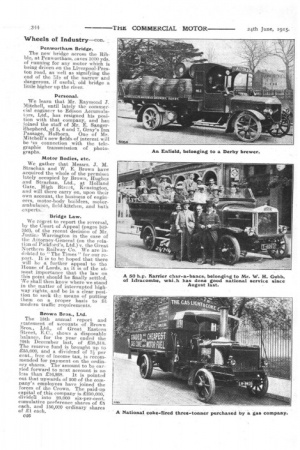 Page 19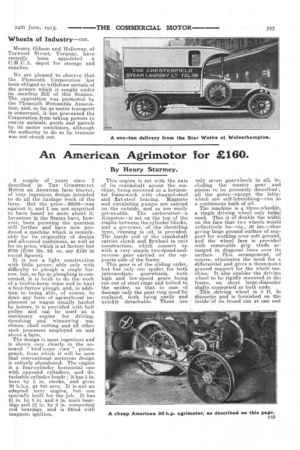 Page 16, 24th June 1915 —
The Wheels of Industry.
Close
This journal, dealing as it does with the "Chariots of War," no less than with the "Wheels oi Industry," continues of national importance. Its interests embrace impartially the transport wagon and the parcelcar, the military tractor and the steam lorry.
Proposals and Purchases.
Birmingham Guardians have purchased a fully-equipped motor ambulance for 2686. Epsom U.D.C. proposes to obtain sanction to borrow 21000 to cover toe cost of purchasing a motor fireengine. Edinburgh Works Committee has elecided to purchase another motor fire-engine. The cost has been estimated at 21130. Messrs. Aveling and Porter have booked an order from the Bournemouth Corporation to supply a steam tractor for 2450.
Southend-on-Sea Corporation is to provide seats on the rear platform of each of its motorbuses for the use of the conductor.
Taunton R.D.C. is making strenuous efforts to arrange the joint purchase of a fire-engine, in conjunction with neighbouring parishes. A new Edison electric-driven motor lorry has been purchased by the Edinburgh Corporation at a cost of 2695. This machine is the first of its kind in Edinburgh. The Hull Corporation Fire Brigade Sub-committee has decided to nurchase a motor fire-engine. On the matter being considered by the Watch Committee, it was suggested that it would be wiser to obtain at least two engines.
Recent Registrations.
Pendrill, Ltd. (23000), office 112, Grosvenor Road, S.W., to carry on the business of proprietors of motor vehicles.
Valley Motor Co., Ltd. (23000), office Valley Garage, Market
Street, Whitworth, to carry on the business of carriers by motor vehicles.
Surety System Tyre Synd. Ltd, (10,000), office Windsor House, Kingsway, W.C., to carry on the business of manufacturers of tires for motor vehicles.
Tay Motor Lorry Co., Ltd. (25000), office 18, Commercial Street, Dundee, to take over the business carried on at Dundee, as the Tay Motor Lorry Co.
Featherhv's, Ltd. (1E10,000), office Thorley Works, South Mill, Bis
hop's Stortford, to carry on the business of chassis manufaeturers and makers of motor vehicles.
itritish Pn'i al Rervice Motors, Ltd. (500O), 25000) office 20, Brazennose Street, Manchester, to ationt an agreement with G. A. Lamar and J. W. Allan, and, as an alternative, to enter into an agreement between the. Service Motor Truck Co., of Wabash, Ind;ana. U.S Ile, and the two above-named gentlemen,
c40
U.S.A. Make Wanted.
A lorry-manufacturing concern of prominent standing in this country desires to secure offers of American-made chassis of two or three tons which it can offer under. its own name for the time being.
Machines must be of good quality, and offers are not desired of inferior American models. Communications may . be addressed to " Gunnery," care of the Editor.
• Government Contracts. The following tenders have been accepted, during the past month, by the Government Departments named. War Office : —Motor bodies, Alford and Alden, Ltd. ; Carros serie-Latymer (1915), Ltd. Clayton and Shuttleworth, Ltd., W. and G. Du Cros, Ltd. ; L.G.O.C. ; Maythorn() and Son, Ltd. ; Wolseley Motors, Ltd. Motor chassis: Leyland Motors, Ltd. .Fire,engines-: Merryweather and Sons, Ltd. Petrol motors: Leyland Motors, Ltd. Motor rollers: Barford and Perkins:Ltd. Steam wagons and accessories: Clayton and Shuttle-, worth, Ltd. ; Fodens, Ltd. Crown A gents :—Motor fire engines; Merryweather and Sons, Ltd. Post Office : —Conveyance of mails, London-Redhill : Leyland Motors, Ltd.
"Royal" Forecast. Our forecast of the motor and allied exhibits at the forthcoming Show, at Nottingham of the Royal AgriculturalSociety Of England, is opened on page 331 of this issue. The arrangements for presenting a 'complete report in our next issue are well advanced. We have also, incidentally, made suitable and selected additions to our usual mailing list, with a view to furthering a particular scheme "missionary effort" amongst likely new users. This programme may at the moment appear to be in the nature of an act of supererogation, but we believe in preparing the ground in good time_, notwithstanding the difficulties by which so many of our leading makers are at the moment confronted in respect of delivery dates. New users Who make a beginning at the present time, with smaller Units than they would otherwise buy? or with units of American origin, will in due time become large piirchaers.
Agricultural Tractors.
The Hastings Rural District Council passed a resolution, on the 12th inst. in support of the Newhaven R.b.C., to the effect that "in the interests of agriculture, favourable consideration should be shown to motor tractors which are used for agricultural purposes."
implement Trials.
A special committee of the Highland and Agricultural Society has been charged to do its utmost to secure that trials of agricultural motors shall take place, before the end of the present year, in Scotland. If the scheme is found to be practicable, expenses not exceeding £300 have been sanctioned.
Auto•Carrier Addresses.
We are asked to make the following announcement. All communications relating to Auto-Carrier light cars and trade machines with regard to the sale of new vehicles, repair work, spare parts and agents' correspondence should be sent to the company's London address, JB1, Hescules Road, S.E. Delay is caused by sending letters thereanent to the factory. City of London National Guard M.T.C.
A convoy of Albion vehicles paraded, on Sunday last, at Trafalgar Square, and conveyed a company of the, City of London National Guard to and from Ongar. This was the third occasion on which Albion owners have turned out.
The vehicles were lent by the following owners, and the names of the drivers are given in paren
theses : —Albion Motor Car Co., Ltd. (J. Pullock); Eastmart aios Sons, Ltd. (P. Venus) • Harrods, Ltd. (A.. Gilks) •' J. L. Henson (M. Hanch); Lovilaond and Sons (J. Pack); Skilbeck Bros. (F. Brown). The officer on duty was Convoy. Commander J. C. Moth.
U.S.A. Stockists.
The address of Messrs. Gaston, Williams and Wigmore is nciw Alexandra House, Kingsway, (Telephone, Regent 550). This fi
is the sole concessionnaire 14r among others, the following cc* mercial vehicles :,$elden,
less. Packard. Packard. and .:Kelly-Sprirgfield ; also a Jeffrey-Quini-ageney.
A lload Exhibition.
We are not dealing at any considerable length with the exhibition at the Horticultural Hall, Westminster, in connection with the National Road Conference, as the suPerior claims of the " Royal" receive a preference at our hands. The exhibitors, so far as the motor industry goes, include Messrs. W. and F. Archer, Edison Accumulators, Ltd., the General Vehicle Co., Hills, Ltd., the Lacre Motor Car Co., Ltd., and Robey and Co:, Ltd. The exhibition is to be opened to-morrow, the 25th inst, at 4 p.m., by Mr. Walter Long. Penwortham Bridge.
The new bridge across the Ribble, at Penwortham, eaves 1000 yds. of running for any motor which is being driven on the Liverpool-Preston road, as well as signifying the end of the life of the narrow and dangerous, if useful, old bridge a little higher up the river.
Personal.
We learn that Mr. Raymond J. Mitchell, until lately the commercial engineer to Edison Accumulators, Ltd., has resigned his position with that company, and haL joined the staff of Mr. E. SangerShepherd, of 5, 6 and 7, Gray's Inn
Passage, Holborn. One of Mr. Mitchell's new fields of interest will be in connection with the telegraphic transmission of photographs.
Motor Bodies, etc.
We gather that Messrs. J. M. Strachan and W. E. Brown have acquired the whole of the premises lately occupied by Brown, Hughes and Strachan, Ltd., at Holland Gate, High Street, Kensington, and will there carry on, upon their own account, the business of engineers, motor-body builders, motorambulance, field-kitchen, and bath experts.
• • Bridge Law.
We regret to report the reversal, by the Court of Appeal (pages 349350), of the recent decision of Mr. Justicc Warrington in the case of the Attorney-General. (on the relation of Piekford's, Ltd.) v. the Great Northern Railway Co. We are indebted to "The Times" for our report. It is to be hoped that there will be a further appeal to the House of Lords, as it is of the utmost importance that the law on this point should be finally settled. We shall then know where we stand in the matter of interrupted highway rights, and be in a clear position to seek the means of putting them on a proper basis to fit modern traffic requirements.
Brown Bras., Ltd.
The 18th annual report and statement of accounts of Brown Bros., Ltd., of Great Eastern Street, EC., shows a disposable balance, for the year ended the 19th December last, of 238,518. The reserve fund is brought up to £55,000, and a dividend of 712 per cent., free of income tax, is recommended for payment on the ordinary shares. The amount to be carried forward to next account is no less than £16,268. It is pointed out that upwards of 200 of the company's employees have joined the forces of the Crown. The paid-up capital of this company is £250,000,• dividea into 20,000 six-per-cent. cumulative preference shares of £5 each, and 150,000 ordinary shares
. . Messrs, Gibson and Holloway, of Torwood. Street, Torquay, have recently been appointed a C.M.U.A, depot for storage and supplies.
We are pleased to observe that the Plymouth Corporation has been obliged to withdraw certain of the powers which it sought under its omnibus Bill of this Session. The opposition was promoted by the Plymouth Mercantile Association, and, so far as motor transport is concerned, it has prevented the Corporation from taking powers to convey animals, goads and parcels by its motor omnibuses, although the authority to do so by tramcar was not struck out.