Cawthorn Group sold for £.1.1 million
24th December 1971
Page 8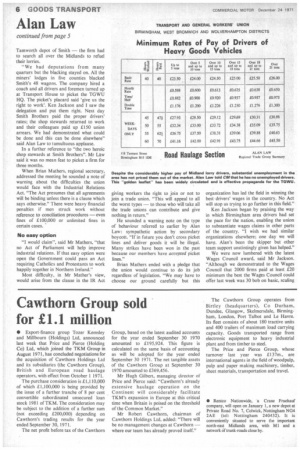 Page 8, 24th December 1971 —
Cawthorn Group sold for £.1.1 million
Close
• Export-finance group Tozer Kemsley and Millbourn (Holdings) Ltd, announced last week that Price and Pierce (Holding Co) Ltd, which joined the TKM Group in August 1971, has concluded negotiations for the acquisition of Cawthorn Holdings Ltd and its subsidiaries (the Cawthorn Group), British and European road haulage operators, with effect from October 1 1971.
The purchase consideration is £1,110,000 of which £1,100,000 is being provided by the issue of a further tranche of 8 per cent convertible subordinated unsecured loan stock 1981 of TKM. The consideration may be subject to the addition of a further sum (not exceeding £200,000) depending on Cawthorn's trading results for the year ended September 30, 1971.
The net profit before tax of the Cawthorn Group, based on the latest audited accounts for the year ended September 30 1970 amounted to £195,924. This figure is calculated on the same basis of accounting as will be adopted for the year ended September 30 1971. The net tangible assets of the Cawthorn Group at September 30 1970 amounted to £369,456.
Mr Hugh Gilbert, managing director of Price and Pierce said: "Cawthorn's already extensive haulage operation on the Continent will considerably facilitate TKM's expansion in Europe at this critical time when Britain is poised on the threshold of the Common Market."
Mr Robert Cawthorn, chairman of Cawthorn Holdings Ltd, added: "There will be no management changes at Cawthorn — where our team has already proved itself." The Cawthorn Group operates from Birtley (headquarters), Co Durham, Dundee, Glasgow, Skeltnersdale, Birmingham, London, Port Talbot and Le Havre. Its fleet consists of about 180 tractive units and 400 trailers of maximum load carrying capacity. Goods transported range from electronic equipment to heavy industrial plant and from timber to steel.
The Price and Pierce Group, whose turnover last year was £137m., are international agents in the field of woodpulp, pulp and paper making maehinery, timber, sheet materials, transportation and travel.
• Rentco Nationwide, a Crane Fruehauf company, will open on January 1, a new depot at Private Road No. 7, Colwick, Nottingham NG4 2AE (tel: Nottingham 240432). It is conveniently situated to serve the important north-east Midlands area, with Ml and a network of trunk-roads close by.