The anatomy of a pay campaign
24th December 1971
Page 5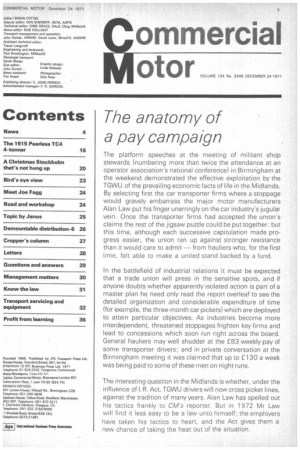 Page 5, 24th December 1971 —
The anatomy of a pay campaign
Close
The platform speeches at the meeting of militant shop stewards (numbering more than twice the attendance at an operator association's national conference) in Birmingham at the weekend demonstrated the effective exploitation by the TGWU of the prevailing economic facts of life in the Midlands. By selecting first the car transporter firms where a stoppage would gravely embarrass the major motor manufacturers Alan Law put his finger unerringly on the car industry's jugular vein. Once the transporter firms had accepted the union's claims the rest of the jigsaw puzzle could be put together: but this time, although each successive capitulation made progress easier, the union ran up against stronger resistance than it would care to admit from hauliers who, for the first time, felt able to make a united stand backed by a fund.
In the battlefield of industrial relations it must be expected Thai a trade union will press in the sensitive spots, and if anyone doubts whether apparently isolated action is part of a master plan he need only read the report overleaf to see the detailed organization and considerable expenditure of time (for example, the three-month car pickets) which are deployed to attain particular objectives. As industries become more interdependent, threatened stoppages frighten key firms and lead to concessions which soon run right across the board. General hauliers may well shudder at the £83 weekly pay of some transporter drivers: and in private conversation at the Birmingham meeting it was claimed that up to £130 a week was being paid to some of these men on night runs.
The interesting question in the Midlands is whether, under the influence of I. R. Act, TGWU drivers will now cross picket lines, against the tradition of many years. Alan Law has spelled out his tactics frankly to CM's reporter. But in 1972 Mr Law will find it less easy to be a law unto himself: the employers have taken his tactics to heart, and the Act gives them a new chance of taking the heat out of the situation.