profit from learning
24th December 1971
Page 38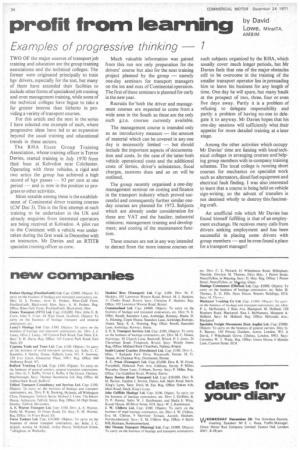 Page 38, 24th December 1971 —
profit from learning
Close
Examples of progressive thinking
by David Lowe, MInstTA, AMBIM
TWO OF the major sources of transport job training and education are the group training associations and the technical colleges. The former were originated principally to train hgv drivers, especially for the test, but many of them have extended their facilities to include other forms of specialized job training and even management training, while some of the technical colleges have begun to take a far greater interest than hitherto in providing a variety of transport courses.
For this article and the next in the series I have selected one example of each, where progressive ideas have led to an expansion beyond the usual training and educational trends in these sectors.
The RHA Essex Group Training Association, whose training officer is Trevor Davies, started training in July 1970 from their base at Kelvedon near Colchester. Operating with three vehicles, a rigid and two artics the group has achieved a high record of hgv passes 93 per cent at one period and is now in the position to progress to other activities.
Most notable among these is the establishment of Continental driver training courses (CM Dec 3). This is the first attempt at such training to be undertaken in the UK and already enquiries from interested operators are being received at Kelvedon. A pilot run to the Continent with a vehicle was undertaken during the first week in December with an instructor, Mr Davies and an RTITB specialist training officer as crew.
Much valuable information was gained from this run not only preparation for the drivers' course but also for the next training project planned by the group namely one-day seminars for transport managers on the ins and outs of Continental operation. The first of these seminars is planned for early in the new year.
Recruits for 'both the driver and management courses are expected to come from a wide area in the South as these are the only such g.t.a. courses currently available.
The management course is intended only as an introductory measure the amount of material which can be covered in any one day is necessarily limited but should include the important aspects of documentation and costs. In the case of the latter both vehicle operational costs and the additional costs of ferries, driver's subsistence, fiscal charges, customs dues and so on will be outlined.
The group recently organised a one-day management seminar on costing and finance in the transport industry which proved successful and consequently further similar oneday courses are planned for 1972. Subjects which are already under consideration for these are: VAT and the haulier; industrial relations; management training and development; and costing of the maintenance function.
These courses are not in any way intended to detract from the more intense courses on such subjects organized by the RHA, which usually cover much longer periods, but Mr Davies feels that one of the major obstacles still to be overcome in the training of the smaller transport operator lies in persuading him to leave his business for any length of time. One day he will spare, but many baulk at the prospect of two, three, four or even five days away. Partly it is a problem of refusing to delegate responsibility and partly a problem of having no-one to delegate it to anyway. Mr Davies hopes that his one-day sessions will sufficiently whet their appetite for more detailed training at a later stage.
Among the other activities which occupy Mr Davies' time are liaising with local technical colleges in arranging courses and helping group members with in-company training schemes. The local college is running short courses for mechanics on specialist work such as alternators, diesel fuel equipment and electrical fault fmding. I was also interested to learn that a course is being held on vehicle sign-writing, so the advent of transfers is not destined wholly to destroy this fascinating craft.
An unofficial role which Mr Davies has found himself fulfilling is that of an employment exchange. He receives many calls from drivers seeking employment and has been successful in placing some drivers with group members and he even found a place for a transport manager!